Sword Art Online's 21st volume became the first light novel that topped the overall bunko ranking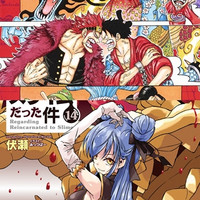 Oricon, a data compiling company specializing in providing data for the Japanese music/book industry, has announced the best-selling book rankings for the first half of 2019, which were compiled between November 19, 2018 and May 19, 2019.
Without any surprises, Eiichiro Oda's internationally popular series One Piece took first place in the manga sales ranking for 11 consecutive years since 2009 by still selling a huge 5,015,325 copies during the six month period, while Kaiu Shirai (story) and Posuka Demizu (art)'s The Promised Neverland jumped up to second from last year's eighth with 4,180,039 copies.
In the light novel section, Fuse's That Time I Got Reincarnated as a Slime became the top-selling seies. Last year's champion, Kugane Maruyama's Overlord, which has released no new volumes since April 2018, disappeared from the top 10. Meanwhile, the 21st volume of Reki Kawahara's Sword Art Online sold 239,946 copies, which was enough to make it the top-selling title in the overall bunko sales ranking including all genres. SAO is the first light novel series that dominated the ranking.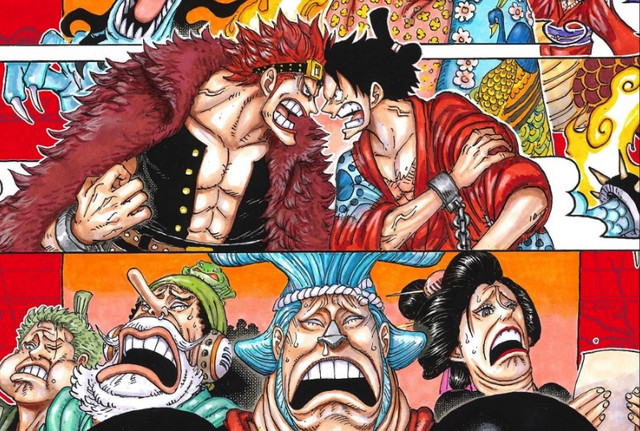 ---
Manga Sales Ranking Top 10 (by series)
(last year's ranking)
1 (1). "One Piece" (Eiichiro Oda) - 5,015,325
2 (8). "The Promised Neverland" (Kaiu Shirai/Posuka Demizu) - 4,180,039
3 (6). "Kingdom" (Yasuhisa Hara) - 4,044,339
4 (5). "My Hero Academia" (Kohei Horikoshi) - 2,516,768
5 (-). "The Quintessential Quintuplets" (Negi Haruba) - 2,940,013
6 (2). "Attack on Titan" (Hajime Isayama) - 2,814,044
7 (-). "That Time I Got Reincarnated as a Slime" manga edition (Taiki Kawakami) - 2,527,807
8 (4). "Haikyu!!" (Haruichi Furudate) - 2,451,633
9 (-). "Kaguya-sama: Love Is War" (Aka Akasaka) - 2,432,345
10 (10). "One-Punch Man" (One/Yuusuke Murata) - 1,814,307
---
Manga Sales Ranking Top 25 (by volume)
1. "One Piece" 91 - 2,280,644
2. "One Piece" 92 - 1,915,195
3. "Attack on Titan" 27 - 1,246,386
4. "Attack on Titan" 28 - 964,081
5. "Kingdom" 53 - 793,975
6. "My Hero Academia" 21 - 763,647
7. "Kingdom" 54 - 735,732
8. "The Promised Neverland" 12 - 697,567
9. "My Hero Academia" 22 - 692,149
10. "March Comes in Like a Lion" 14 - 670,966
11. "Haikyu!!" 35 - 661,124
12. "One-Punch Man" 18 - 634,962
13. "Haikyu!!" 36 - 619,239
14. "That Time I Got Reincarnated as a Slime" manga edition 10 - 572,611
15. "Detective Conan" 96 - 558,621
16. "Haikyu!!" 37 - 550,443
17. "One-Punch Man" 19 - 544,101
18. "The Promised Neverland" 13 - 529,687
19. "That Time I Got Reincarnated as a Slime" manga edition 11 - 501,849
20. "My Hero Academia" 23 - 485,840
21. "The Seven Deadly Sins" 35 - 472,807
22. "Black Butler" 28 - 468,353
23. "Drifters" 6 - 466,631
24. "Wotaku ni Koi wa Muzukashii" 6 - 429,309
25. "The Quintessential Quintuplets" 8 - 420,627
---
Light Novel Sales Ranking Top 10 (by series)
(last year's ranking)
1 (8). "That Time I Got Reincarnated as a Slime" (Fuse) - 604,159
2 (9). "Sword Art Online" (Reki Kawahara) - 402,207
3 (-). "Seishun Buta Yarou" (Hajime Kamoshida) - 332,975
4 (2). "Re:Zero − Starting Life in Another World" (Tappei Nagatsuki) - 286,045
5 (-). "Is It Wrong to Try to Pick Up Girls in a Dungeon?" (Fujino Omori) - 212,170
6 (-). "Classroom of the Elite" (Shogo Kinugasa) - 211,787
7 (-). "My Youth Romantic Comedy Is Wrong, As I Expected" (Wataru Watari) - 189,401
8 (-). "Kusuriya no Hitorigoto" (Natsu Hyuga) - 182,586
9 (4). "The Irregular at Magic High School" (Tsutomu Sato) - 175,095
10 (-). "Goblin Slayer" (Kumo Kagyu) - 161,891
---
Source: Oricon
"One Piece" image (C) Eiichiro Oda/Shueisha
"That Time I Got Reincarnated as a Slime" image (c) Fuse, Mitz Vah/Micro Magazine