Both shows will be coming to Crunchyroll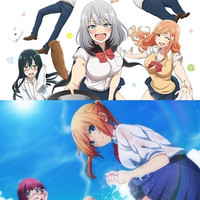 Two of the highly-anticipated TV anime this summer will come together. It is confirmed today that the forthcoming TV anime Magical Sempai and Are You Lost? are set to premiere on TOKYO MX, MBS, and BS Nittele on July 2, 2019, and that both will be produced as a 15-minute show. In addition, an advance screening event for the first three episodes of both anime will be held together in the Tokyo Gekijo theater on June 29, 2019.
Crunchyroll already announced at its panel at Anime Central on May 17 that it will stream the two this July. Don't miss it!
---
The TV anime adaptation of Azu's short gag manga Tejina Senpai/Magical Sempai is produced by Liden Films (LOST SONG, As Miss Beelzebub Likes It.). Fumiaki Usui, who worked as an episode director for Love Live! and assistant director for Boarding School Juliet, makes his series directorial debut.
????アニメ「#手品先輩」放送日時解禁????

????TOKYO MXにて7月2日(火)放送スタート 毎週火曜23:00~23:15
????MBSにて7月2日(火)放送スタート 毎週火曜27:00~27:15
????BS日テレにて7月2日(火)放送スタート 毎週火曜24:00~24:15
※放送時間が変更になる可能性がございます#tejinasenpai pic.twitter.com/UlQnrsuZas

— アニメ「手品先輩」公式 (@tejina_senpai) 2019年6月2日
Its OP song "FANTASTIC ILLUSION" is performed by six-member voice actress idol group i☆Ris, and it will be released as their 19th single on August 28, 2019.
????19th Sg「FANTASTIC ILLUSION」8.28 発売決定!!????
茜屋日海夏が出演する、7月よりTOKYO MXほかにて放送開始のTVアニメ「#手品先輩」OPテーマ曲✨
さらに店舗特典は「特製ブロマイド」!この機会にぜひGETしてください????
詳細はこちら⇒https://t.co/h74mgYYvn2 #i_Ris pic.twitter.com/CKlBgz2uG6

— i☆Ris (@iris_official_) 2019年6月1日
---
The TV anime based on Kentaro Okamoto (story) and Riri Sagara (art)'s survival manga Sounan Desuka?/Are You Lost? is animated by Ezo'la (Happy Sugar Life) with Nobuyuki Nagayama (My Girlfriend is Shobitch) directing.
\アニメ「#ソウナンですか?」/
\KV&放送日時&PV解禁❗️/
????TOKYO MXにて7/2(火)放送スタート 毎週火曜23:15~23:30
????MBSにて7/2(火)放送スタート 毎週火曜27:15~27:30
????BS日テレにて7/2(火)放送スタート 毎週火曜24:15~24:30
※放送日時が変更になる可能性あり
PV➡️https://t.co/Q4DwKp2h9L pic.twitter.com/4Gf0B8lRhp

— アニメ「ソウナンですか?」公式 (@sounan_desuka) 2019年6月2日
The anime's OP song "Koko wa Doko" (Where are we?) is sung by its four main voice actresses: M.A.O (Homare Onishima), Hirori Kono (Asuka Suzumori), Kiyono Yasuno (Hiyori Kono), and Azumi Waki (Shion Kujo). Its CD single is set to be released on September 4.
オープニングテーマが #あほむし(CV.#M・A・O、#河野ひより、#安野希世乃、#和氣あず未)の歌う「ココハドコ」に決定‼️
CDシングルは9月4日(水)に発売です????
試聴はこちら➡️https://t.co/JhFgIZJIPn#ソウナンですか #sndk pic.twitter.com/gkD6auwljG

— アニメ「ソウナンですか?」公式 (@sounan_desuka) 2019年6月2日
---
Source: TV anime "Magical Sempai" and "Are You Lost" official website / Twitter
©Azu, Kodansha/Tejina Senpai Production Committee
©Kentaro Okamoto, Riri Sagara, Kodansha/Sounan Desuka? Production Committee