20 cm-tall item will be shipped in January 2020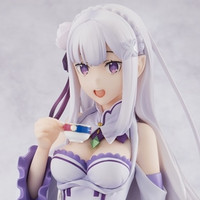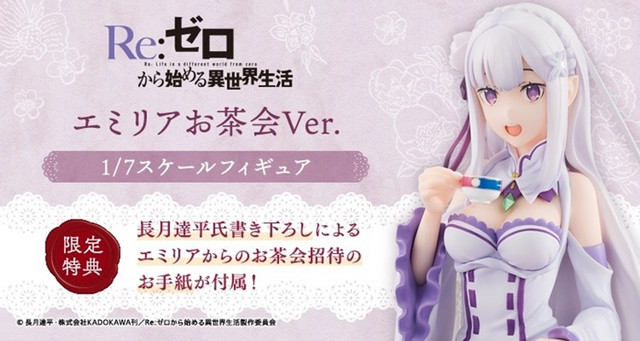 With the concept "A new story that you can take in your hand," KADOKAWA launched its new figure brand
"KDcolle (KADOKAWA Collection)" today. And its first item is a 1/7 scale "tea party" version figure of Emilia
from Re:Zero − Starting Life in Another World. It is based on her illustration in the key visual for the "Re:
Zero: Heroines' Tea Party" event held at Tea Village in Tokyo Soramachi in November 2017.
Pre-orders for the 17,000 yen (before tax/about 157 US dollars) set will be accepted on Kadokawa Store
(https://store.kadokawa.co.jp/shop/), Dengekiya (https://dengekiya.com/shop/), Ebten (https://ebten.jp/),
and Chara-Ani.com (https://www.chara-ani.com/) until July 31, and those who pre-order it on the four
stores will also receive an invitation letter to the tea party from Emilia, which is newly written by the Re:Zero
novel author Tappei Nagatsuki. The 20 cm-tall figure set including a chair and a table will be shipped in
January 2020.
Following Emilia, the same scale figures of Rem, Ram, and Beatrice inspired by the "Tea Party" illustraion
are also scheduled to join soon.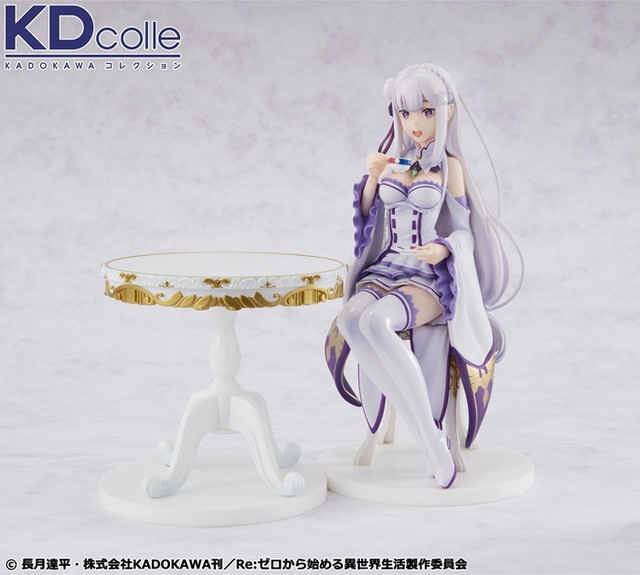 "Re:Zero − Starting Life in Another World: Heroines' Tea Party" key visual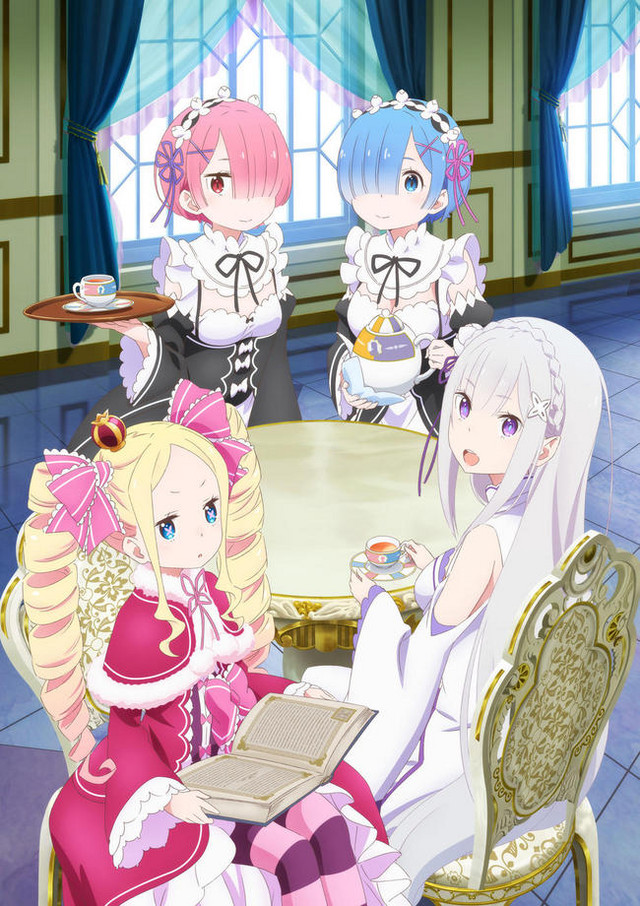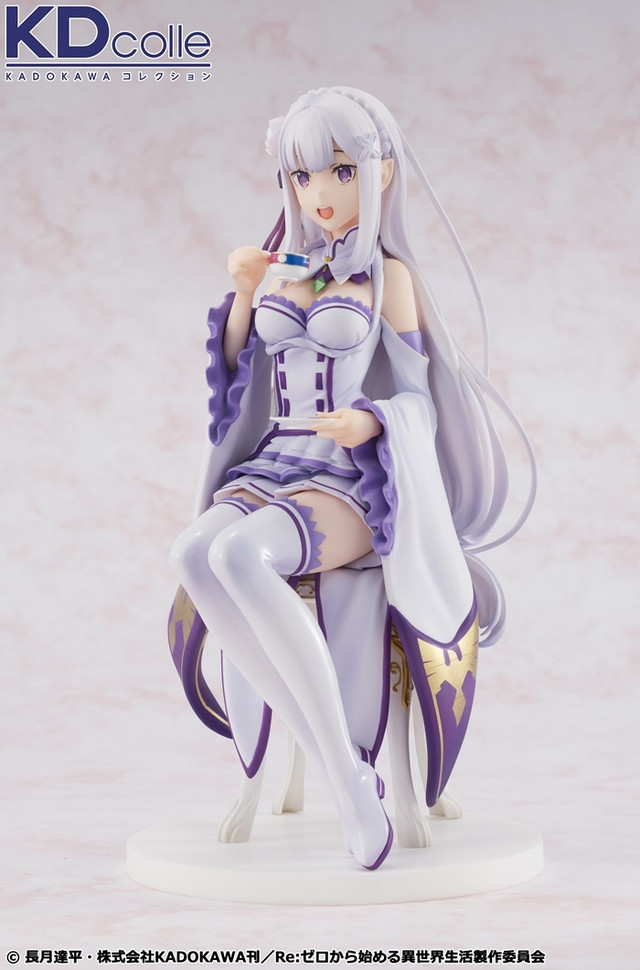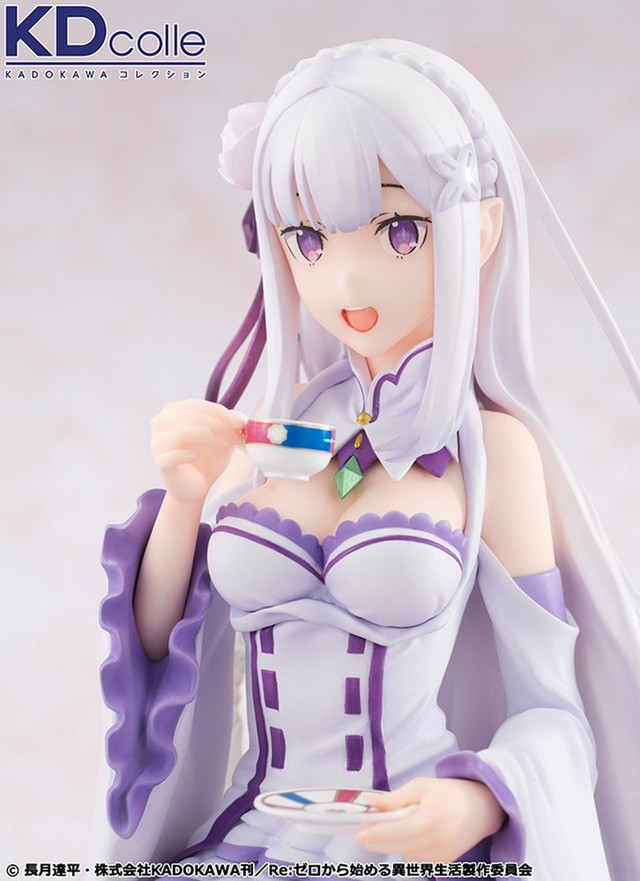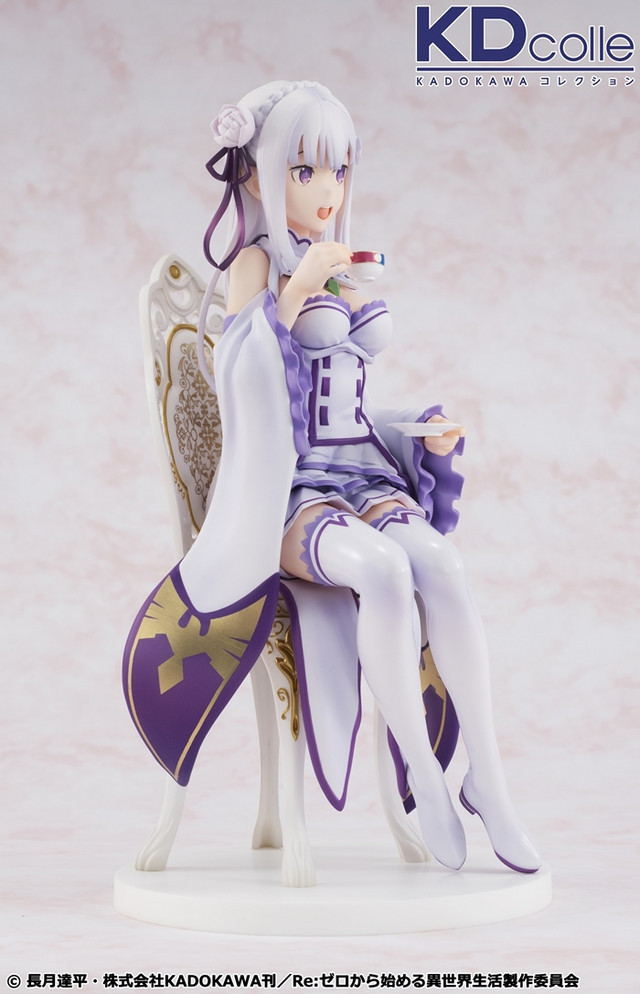 More character figures will be added in the brand's lineup in near future.
KADOKAWAが贈る新たなフィギュアブランド「KDcolle(KADOKAWAコレクション)」始動!本アカウントでは、ブランドの最新情報などを随時お届けしていきますので、ぜひチェックしてくださいね!!
【ブランド公式サイト】https://t.co/8mGjKVz1An#KDcolle #lovelive #sao_anime #date_a_live #このすば pic.twitter.com/paIBM5Oy1E

— KDcolle(KADOKAWAコレクション) (@KDcolle_news) 2019年6月6日
---
Source: KADOKAWA press release
© Tappei Nagatsuki, KADOKAWA/Zero Kara Hajimeru Isekai Seikatsu Production Committee