Primer vistazo a Tifa.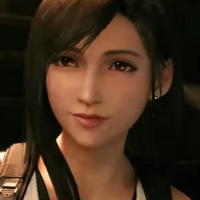 Desde Square Enix han mostrado un nuevo tráiler de cuatro minutos y una demo de juego de Final Fantasy VII Remake durante su conferencia de prensa en el E3 2019.
El video de juego nos permite conocer por primera vez algo más en profundidad el combate, el cual mezclará la acción en tiempo real y la clásica estrategia por turnos. Mientras se llena la barra clásica de ATB se podrá atacar a placer con Cloud (o cualquier otro personaje en el grupo, pues se podrá intercambiar entre ellos en pleno combate para aprovechar sus características únicas) pulsando unos sencillos botones de ataque, pero al llenarse la barra se parará todo para entrar en el "modo táctico" que nos permitirá navegar por las diferentes opciones, habilidades, magia y otras opciones proporcionadas por las materias que llevemos equipadas. Quienes prefieran la acción ininterrumpida en lugar del modo táctico podrán asignar habilidades y comandos a botones para usarlos directamente al llenarse la barra.
Se confirmaba además que este primer lanzamiento de Final Fantasy VII Remake comprendrá toda la historia de Midgar.
Las edición básica, digital, Deluxe (89,99 euros / 79,99 dólares) y 1st Class Edition (299 euros / 329 dólares) del juego, ya disponibles en la Square Enix Store (EU / US), completaban los anuncios de hoy.

La edición Deluxe Edition contiene un libro de arte de tapa dura, un CD con una mini-banda sonora, un código para conseguir la materia de invocación de Cactilio y una steelbock especial. La versión digital de esta edición incluirá un libro de arte digital, una mini-banda sonora digital, y el DLC para conseguir la materia de invocación de Cactilio.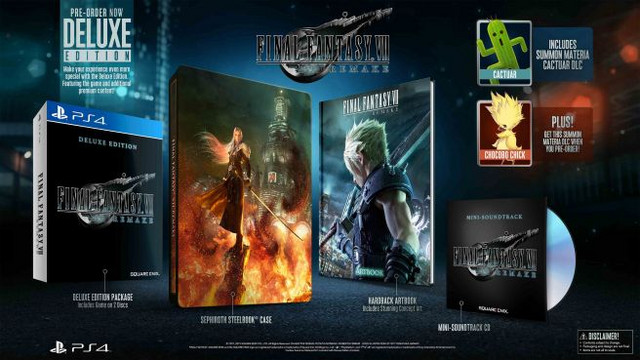 La 1st Class Edition por su parte incluye todo el contenido de la edición Deluxe y se le suma una materia para invocar a Carbunco, una Play Arts Kai de Cloud Strike y su moto, la Hardy Daytona, aunque estas son paquetes separados de la edición Deluxe y no se incluye ninguna caja especial de gran tamaño.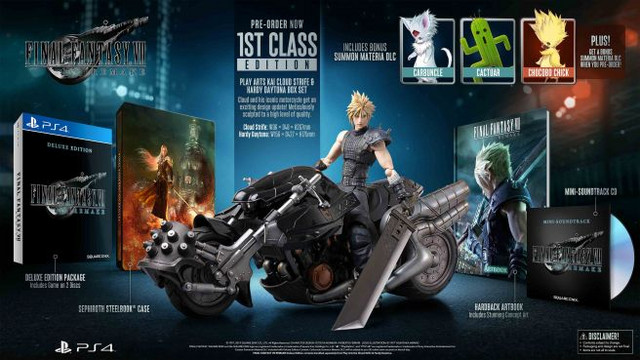 En algunas tiendas, incluyendo la Square Enix Store, se sumará a las reservas la materia de invocación de Chocobito. La reserva de la edición digital incluirá además un tema exclusivo para PlayStation 4.
Además se reveló el reparto de voces del juego en inglés:
Cloud, con la voz de Cody Christian (All American, Teen Wolf)
Barret, con la voz de John Eric Bentley (Transformers: Revenge of the Fallen, Independence Day: Resurgence)
Aerith, con la voz de Briana White (Criminal Minds: Beyond Borders, Occupants)
Tifa, con la voz de Britt Baron (GLOW)
Jessie, con la voz de Erica Lindbeck (Spider-Man, Persona 5, ThunderCats Roar)
Biggs, con la voz de Gideon Emery (Star Wars: The Clone Wars, Teen Wolf)
Wedge, con la voz de Matt Jones (Breaking Bad)
Sephiroth, con la voz de Tyler Hoechlin
Bajo estas líneas pueden verse los videos, donde hacemos mención especial a la primera aparición de la esperada Tifa, así como de Sefirot.
Final Fantasy VII Remake se lanzará el 3 de marzo de 2020 en PlayStation 4.
Tráiler en inglés
Tráiler en japonés
Demo de juego
Fuente: Gematsu