Del equipo creativo de AnoHana.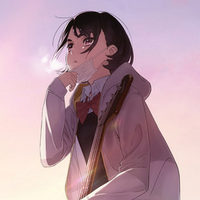 La web oficial del nuevo proyecto cinematográfico animado original titulado Sora no Aosa o Shiru Hito yo (Para quienes conozcan lo azul del cielo) del equipo creativo Ultra Peace Busters ha revelado su reparto e historia.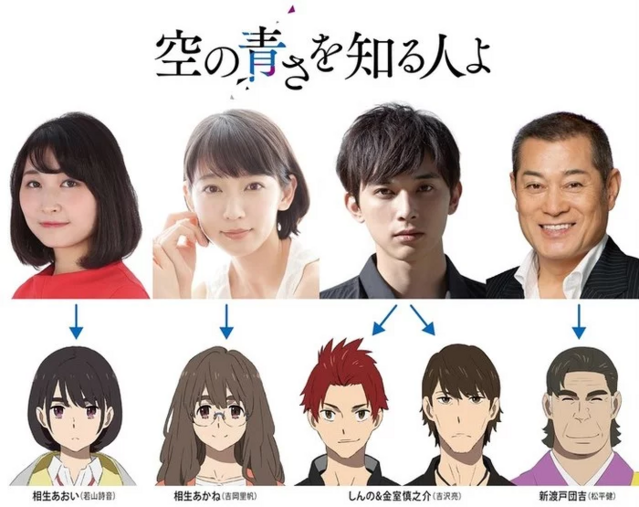 El reparto será, de izquierda a derecha en la imagen:
Shion Wakayama como Aoi Aioi
Riho Yoshioka como Akane Aioi
Ryo Yoshizawa como Shinnosuke Kanomura/Shinno
Ken Matsudaira como Dankichi Nitobe
Matsudaria además interpretará una insert para el filme.
La historia se desarrollará en un pueblo entre montañas donde conoceremos a Aoi Aioi, una aspirante a música de segundo año de preparatoria, a su hermana mayor Akane Aioi, al exnovio de Akane y guitarrista sin éxito Shinnosuke Kanomura y Shinno, quien en realidad es el Shinnosuke de hace 13 años que ha viajado en el tiempo hasta el presente.
Los padres de Aoi y Akane murieron en un accidente hace 13 años, con lo que Akane dejó de lado su idea de ir a Tokio con SHinnosuke para encargarse de Aoi. Desde entonces Aoi se siente en deuda con su hermana mayor. Un día la invitan a un festival de música por mediación de un famoso cantante de enka llamado Dankichi, justo en el momento en el que Shinnosuke regresa al pueblo tras haberse ido mucho tiempo atrás. Cuando Shinno aparece, Aoi se enamora por primera vez.
El equipo creativo Ultra Peace Busters está compuesto por el director Tatsuyuki Nagai (Toaru Kagaku no Railgun, Mobile Suit Gundam: Iron-Blooded Orphans), la guionista y directora Mari Okada (anohana, True Tears, Hanasaku Iroha) y el artista Masayoshi Tanaka (DARLING in the FRANXX, Joshiraku).
El filme se proyectará en los cines TOHO de Japón a partir del 11 de octubre, siendo Nagai quien dirija la película, Okada quien escriba el guion y Tanaka quien diseñe los personajes y diriga la animación. El estudio CloverWorks se encargará de producir el filme, siendo Hiroyuki Shimizu (anohana, The Anthem of the Heart) y Genki Kawamura (your name.) los productores.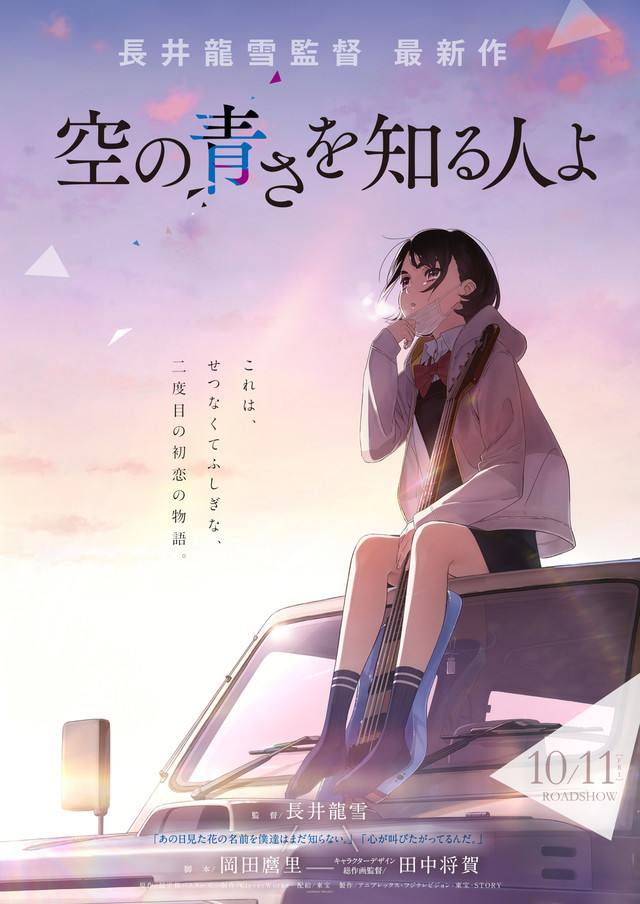 El texto en la imagen superior dice: "Esta es la historia de un misterioso y desgarrador segundo primer amor".
El filme será el tercero que se desarrolle en Chichibu, pueblo natal de Okada, tras anohana y The Anthem of the Heart. Nagai comentaba en su momento que el núcleo principal del proyecto son las relaciones entre cuatro personajes.
Fuente: ANN