It has been 12 years since the five's last performance on the stage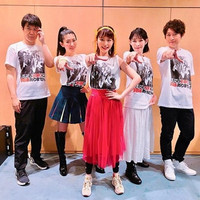 One of the great surprises at the Lantis Festival concert event on Sunday was the reunion of the SOS Brigade's five members from the Haruhi Suzumiya franchise on the stage: Aya Hirano (Haruhi Suzumiya), Tomokazu Sugita (Kyon), Minori Chihara (Yuki Nagato), Yuko Goto (Mikuru Asahina), and Daisuke Ono (Itsuki Koizumi).
Lantis Matsuri/Lantis Festival organized by Lantis and its successor Bandai Namco Arts was launched in 2009 as its tenth anniversary event. This year's 20th anniversary event, titled "20th Anniversary Lantis Matsuri 2019 A・R・I・G・A・T・O ANISONG" was held at Makuhari Messe's International Exhibition Hall 9-11 in Chiba Prefecture for three days from June 21 to 23. "The SOS Brigade from Haruhi Suzumiya" stage was scheduled on its third day.
The last time the five members performed together was the "Suzumiya Haruhi no Gekisou/The Extravaganza of Haruhi Suzumiya" live concert event held at Omiya Sonic City in Saitama Prefecture 12 years ago, March 18, 2007. According to the reports on the web, the five danced "Hare Hare Yukai," the internationally well-known first ED theme song for The Melancholy of Haruhi Suzumiya TV anime, together in the end of their stage.
After their performance, Hirano and Chihara posted a photo of the five in the backstage on Twitter.
Aya Hirano: "The five gathered...first time in 12 years...since Gekisou!! We performed Hare Hare Yukai as the five of us!! This is the true SOS Brigade!!!!! Thank you so much."
12年ぶりに…激奏ぶりに‼︎
5人揃いました‼︎
5人でハレ晴レユカイできました‼︎
これが本当のSOS団です‼︎‼︎
ありがとうございました✨#ランティス祭2019 #SOS団 #涼宮ハルヒの憂鬱 pic.twitter.com/u8wADGFODm

— 平野綾オフィシャルインフォ (@Hysteric_Barbie) 2019年6月23日
Minori Chihara:"Everyone at the SOS Brigade~!! Thanks~~~♡♡♡♡♡"
❄️
⠀
SOS団のみんな〜‼️
ありがとう〜〜〜♡♡♡♡♡
⠀
❄️実里❄️
⠀#ランティス祭り #lantis#ありがとう #sos団#minorin #茅原実里 https://t.co/2l9bdPpDTM pic.twitter.com/u3Imx8amyY

— 茅原実里 公式 (@Minorin_parade) 2019年6月23日
---
Source: Aya Hirano, Minori Chihara official Twitter