The 12-episode comedy is planned to be completed by the spring of 2020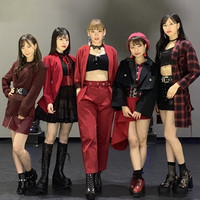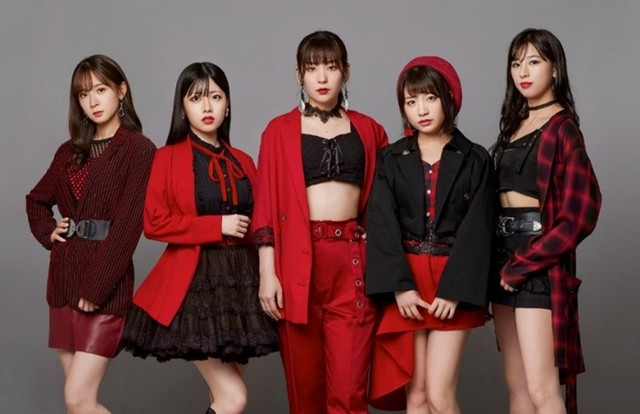 At the same time with a press conference at AKIBA Cultures Theater in Tokyo on Wednesday, the official website and Twitter for internationally acclaimed director Mamoru Oshii's highly-anticipated new anime VLADLOVE have opened, announcing its main staff.
It was also confirmed that 25-year-old voice actress Kanako Takatsuki (Hanamaru Kunikida in the Love Live! Sunshine!!)'s five-member vocal & dance performance unit BlooDye serves as its official series ambassador. The unit performs "Kono Hoshi no Dokoka de" (Somewhere on the earth), the startting song for the project, as well as the theme song for the VLADLOVE anime.
VLADLOVE is the title of Mamoru Oshii's new animation series, backed by Ichigo! BlooDye, a new female idol group with popular voice actress Kanako Takatsuki as the main vocalist will be the official series ambassador! #anime #VLADLOVE #mamoruoshii #bloodye #kanakotakatsuki

— VLADLOVE-official (@VLADLOVE_ANIME) 2019年6月26日
At the press conference, Oshii confirmed that VLADLOVE will be a slapstick comedy that has about five main girls, including a vampire girl named Mai and a high school girl who is forced to shelter her. It is scheduled to run for 12 episodes, and Oshii plans to complete it by the spring of 2020. All the scripts have been already written, and the actual anime production will begin soon. Its broadcasting/streaming platform has not yet been revealed.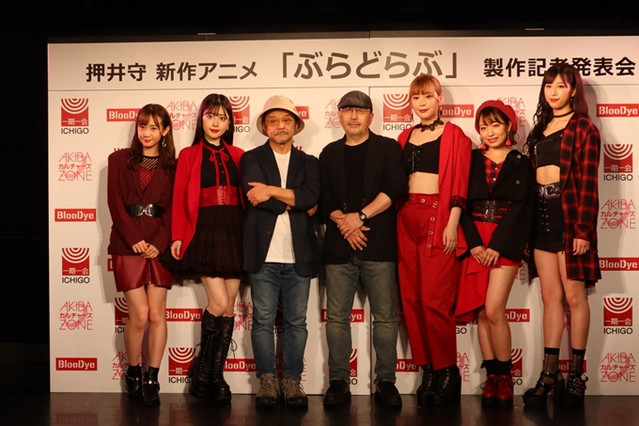 「ぶらどらぶ」製作記者発表会フォトセッション#アニメ #押井守 #西村純二 #ぶらどらぶ #bloodye #ブラッディ #高槻かなこ #礒部花凛 #赤木彩香 #伊藤千咲美 #古高彩乃 pic.twitter.com/tjdCmJs1GT

— VLADLOVE-official (@VLADLOVE_ANIME) 2019年6月26日
"VLADLOVE" main staff:
Original story/General director: Mamoru Oshii (Patlabor, Ghost in The Shell)
Director: Junji Nishimura (Ranma 1/2, True Tears)
Character designer: Issei Arakaki (ViVid Strike! sub character designer)
Scripts: Mamoru Oshii, Kei Yamamura (The Next Generation: Patlabor)
Music producer: Daisuke'DAIS'Miyachi
Production: Comic Animation
Anime Production: Drive
Anime production cooperation: Production I.G
Funding: Ichigo Animation
---
As reported, BLooDye consists of two singers and three dance performers:
Singers:
Kanako Takatsuki (25/Hanamaru Kunikida in Love Live! Sunshime!!)
Karin Isobe (25/Go! Princess PreCure OP songs, Mio Natsume in Just Because!)
Dance performers:
They made their first public appearance at their first fan meeting held at Shirokane Takanawa SELENE b2 in Tokyo on Wednesday.
「BlooDyeファンミーティング!vol.1」にお越しくださった皆様、ありがとうございました!!!
次回のファンミーティングは7/28(日)に名古屋のReNY limitedで開催いたします!!
チケット情報は近日発表!お楽しみに!#bloodye #ぶらどらぶ pic.twitter.com/WoyL2LYtGh

— BlooDye_official (@BlooDyeOfficial) 2019年6月26日
次回のBlooDyeのイベント出演は7/2(火)にZepp DiverCityにて開催の「濱DAフェス!HAPPY ANNIVERSARY! 公開収録&ライブ!」になります!
新曲も披露予定!!是非お越しください!!
チケットはこちらから!https://t.co/wlosaJA38t#bloodye #ぶらどらぶ pic.twitter.com/A7uPBse6Dv

— BlooDye_official (@BlooDyeOfficial) 2019年6月26日
---
Source: Ichigo press release, Eiga.com, BlooDye official Twitter