Il gioco uscirà per PS4, Switch e PC il 29 ottobre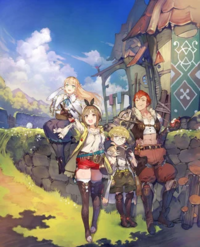 ---
La KOEI Tecmo America ha pubblicato un trailer di Atelier Ryza: Ever Darkness & the Secret Hideout (Ryza no Atelier ~Tokoyami no Joō to Himitsu no Kakurega~). Il video concede un'anteprima del brano "Rainbow Summer" di Sayaka Kanda.
Il gioco uscirà per PlayStation 4, Nintendo Switch e PC tramite Steam, in Nord America il 29 ottobre. Le limited-edition di PS4 e Switch conterranno un libro illustrato, portachiavi, carte illustrate e un cloth poster per 99,99 dollari. Bisognerà attendere il primo novembre per l'uscita europea del gioco.
Così la KOEI Tecmo America descrive la trama del gioco:
Atelier Ryza: Ever Darkness & the Secret Hideout inizia un nuovo arco narrativo della famosa serie della GUST Studios. Il meraviglioso gioco di ruolo segue le vicende del maschiaccio Ryza, che sogna di fuggire dalla vita noiosa del suo villaggio, insieme alla banda formata dai suoi amici monelli. Un giorno, mentre esploravano un'isola in cerca di avventure, incontrano un anziano mago che ha cambiato le loro vite per sempre. Dopo essere stato convinto a farlo, il vecchio inizia a insegnare a Ryza le affascinanti vie dell'alchimia. La lancia così verso un'avventura che la condurrà a salvare la sua stessa terra d'origine dalla misteriosa e mortale oscurità che si cela sotto la superficie.
Il gioco uscirà per PS4 e Switch in Giappone il 26 settembre e per PC tramite Steam in una data ancora sconosciuta.
Il marchio Hust della KOEI Tecmo Games ha anticipato il gioco a maggio sotto il nome di "Gust New Project".
Fonte: canale YouTube della KOEI Temco America tramite Siliconera
Notizia originale di Jennifer Sherman su AnimeNewsNetwork