More than 30 people are injured, 10 in critical state, and 33 deaths have been confirmed thus far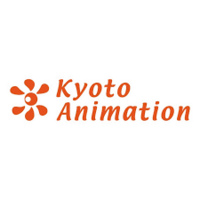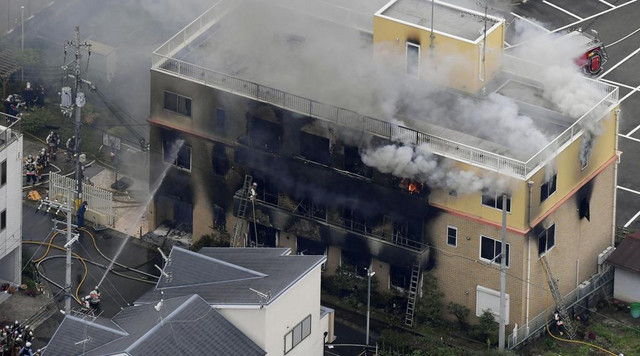 Kyoto Animation Studio 1 (via Sankei)
EDIT: (7/19/19 11:44am PST) For a list of ways to help support Kyoto Animation please see this article.
Latest Update: (5:38am PST): Officials are now reporting the death toll at 33 according to NHK.
Update (3:17am PST): Further updates came through overnight and the Kyoto Fire Department issued a statement at 5:00pm JST. According to the NHK's report, 13 deaths have been confirmed, and "over a dozen" were found in cardiac arrest on the third floor.
Breaking and tragic news over the past hour sees one of the anime industry's most beloved institutions in a state of emergency. Japan's public broadcaster NHK has been following a massive fire at Kyoto Animation's Studio 1 in Uji, which houses much of the studio's administrative offices and training facilities. Early reports confirm at least 30 injured, with 10 suffering more critical injuries. As of 9:51pm PT, NHK has reported that "at least two people are dead". Approximately 70 people were inside the building at the time of the fire. The source of the fire is believed by local authorities to have been arson, and the suspected perpetrator—a Japanese man in his 40s not yet identified to the public—is in custody.
きょう午前、京都市伏見区にあるアニメーション製作会社のスタジオで爆発的な火災が起き、消防によりますと、けが人は少なくとも30人以上に上り、このうち10人ほどが、意識不明の重体だということです。https://t.co/dekElcwrhE

— NHKニュース (@nhk_news) July 18, 2019
Mainichi has also reported that the man in question poured gasoline on the building and on people inside before being apprehended. NHK is reporting multiple fatalities on scene, while Mainichi is only reporting a single casualty, reflecting the severity and fluid nature of the situation. Kyoto Newspaper has reported that some victims ran outside, covered in flames.
At the time of this writing, Mainich reports that approximately 20 people are missing.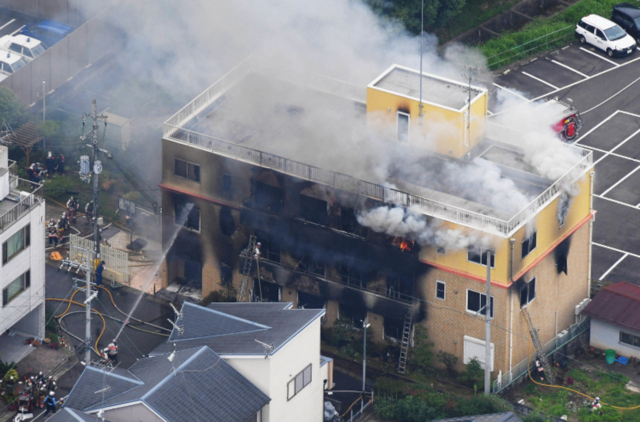 Kyoto Animation Studio 1, Taken at 11:36am Local Time (via Mainichi)
Kyoto Animation staffer Naoko Yamada (Liz and the Blue Bird, A Silent Voice) has been confirmed to be safe following the incident.
山田尚子監督、連絡とれました。無事だそうです。

— 山口優 (@yama_g) July 18, 2019
UPDATE (11:05pm PT): NHK is reporting that multiple people are still in the building and have experienced cardiac arrest. Kyodo reports that "over a dozen people" are non-responsive between the first and second floors.
Kyoto Animation is one of the most celebrated animation studios worldwide, founded in 1981 in Uji, Kyoto. The studio is well-known for its film-like visuals and popular franchises like Sound! Euphonium, Free! Iwatobi Swim Club, Violet Evergarden, and The Melancholy of Haruhi Suzumiya.
This article is being updated to include new information as it comes in. Last update: 11:05pm PT.