HD remastered from 2K scan of the master positive film prints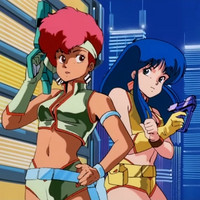 In commemoration of the 40th anniversary of Haruka Takachiho's long-running Dirty Pair sci-fi action novel series, VAP will release a complete Blu-ray box including all of its anime adaptation series produced from 1985 to 1996. The novel series' first volume Dirty Pair no Daibouken (Dirty Pair's Great Adventures) was released in May 1980.
All of the anime adaptations were animated by Sunrise, which also worked on the anime feature film and OVAs based on the author's another popular sci-fi series Crusher Joe in 1983-1989. The TV anime, film and OVAs are HD remastered from 2K scan of their master positive film prints for the box. In addition, a newly recorded audio commentary by the original two main voice cast, Kyoko Dongu (Kei) and Saeko Shimazu (Yuri) is also included.
The price for its first limited edition with a 100-page booklet including the promotional visuals and interviews with the staff and voice cast is 55,000 yen (about 506 US dollars), while that for the regular edition is 50,600 yen (466 US dollars).
Blu-ray box contents:
TV series "Dirty Pair" (1985/24 episodes)
OVA "Affair of Nolandia" (1985)
Film "Dirty Pair: Project Eden" (1986)
OVA "With Love from the Lovely Angels" (1987/2 episodes)
OVA series "Dirty Pair" (1987-1988/10 episodes)
OVA "Flight 005 Conspiracy" (1990)
OVA "Dirty Pair FLASH" (1994/6 episodes)
OVA "Dirty Pair FLASH 2" (1995/5 episodes)
OVA "Dirty Pair FLASH 3" (1995-1996/5 episodes)
スペースオペラの金字塔「ダーティペア」生誕40周年を記念して、遂にBlu-ray BOX化!
映像作品を全て収録した決定版【ダーティペア COMPLETE Blu-ray BOX】12/18(水)発売決定!
商品詳細:https://t.co/ALkfwm3qIZ

こちらのアカウントで商品の紹介やお知らせ等しますので、チェックしていて下さい! pic.twitter.com/lwCBG58LFl

— アニメ「ダーティペア」COMPLETE Blu-ray BOX【公式】 (@dirtypair_BD) July 26, 2019
DVD/remastered Blu-ray comparison video:
---
Source: "Dirty Pair" official portal site
© Haruka Takachiho & Studio Nue/SUNRISE