Group will participate in opening kickoff party and host introductory panels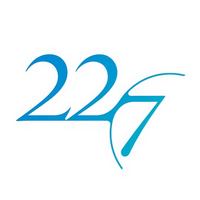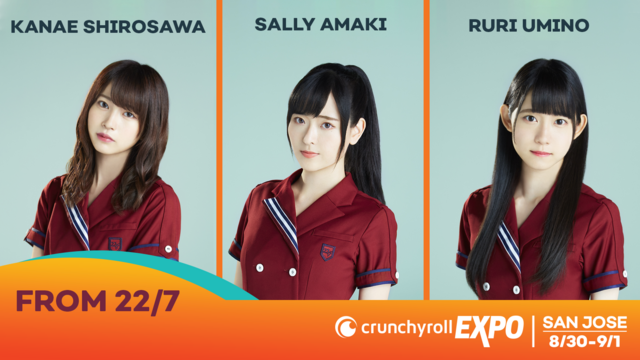 Crunchyroll Expo is making its biggest announcement yet, as the event gives a very warm welcome to virtual idol and voice actress group 22/7 (nanabun no nijyuuni)! Join Sally Amaki, Ruri Umino, and Kanae Shirosawa as they assist the Expo in the opening kickoff festivities* on Friday, August 30th! In addition, the group will host two panels during the weekend introducing themselves and the project to CRX attendees. Don't miss your chance to see the group at CRX! Not familiar with 22/7 (nanabun no nijyuuni) yet? Check out their bio below:
22/7 (nanabun no nijyuuni) Biography
Sally Amaki, Ruri Umino, and Kanae Shirosawa are members of the Japanese digital idol and voice actors' project 22/7 (nanabun no nijyuuni), produced by famed music producer Yasushi Akimoto in collaboration with Aniplex and Sony Music Records. By combining work from well-regarded character designers in the anime industry such as Kurehito Misaki (Saekano: How to Raise a Boring Girlfriend), Hirokazu Koyama (Fate/Grand Order), Masayoshi Tanaka (Your Name, Anohana), Yukiko Horiguchi (K-On!, Lucky Star) and many more, with state-of-the-art technology, 22/7 (nanabun no nijyuuni) has perfectly blended elements of anime with real-life idols to create a unique entertainment experience. Since the group's debut in 2017, they have gained a global following for their multimedia content, which includes voice acting, Virtual YouTuber activities, and music performances.
*Please note that while 22/7 (nanabun no nijyuuni) will be participating in the opening kickoff party and hosting panels during the weekend, they will not be holding any performances for the duration of their appearance at Crunchyroll Expo.
----
Stay tuned to Crunchyroll News for more Crunchyroll Expo announcements and pick up your tickets today!