Crunchyroll's latest co-production is on the way in the near future!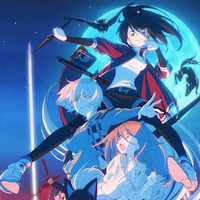 New details have arrived for the BLACKFOX anime, which is officially coming to Crunchyroll in the near future. For those who want to check out the latest Crunchyroll co-production even earlier, the anime will have its world premiere at this year's Crunchyroll Expo!
BLACKFOX
Launch Time: TBA
Territories: Worldwide excluding Asia, France, Germany, Italy and Russia
Synopsis:
Living in a ninja residence tucked away in a corner of a futuristic city is Rikka, the eldest daughter of a Ninja clan, who looks up to her father—a researcher—very much. Carrying on with her life normally, Rikka's home came suddenly under attack one day. Driven into a corner, what would she do to overcome this crisis?
Rip darkness to pieces and become "BLACK"!
If you plan to attend CRX 2019, be sure to stick around to the very end of the premiere screening for a special clip. In the meantime, check out the promo below.
You can also check out a seven-minute preview: