We run down the top 20 series you'll find at the tables during this summer's Comic Market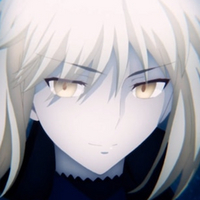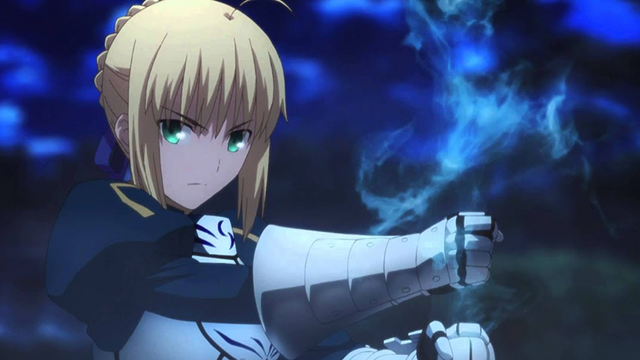 This weekend, doujinshi circles are bringing out their best fan creations for Comiket 96. Thousands of creators, along with nearly 200 industry booths, are set up to offer fans manga, merch, and more. But what franchise is the most popular among the fan creator circles?
A graph has been released to kick off the weekend, showing the top 20 repped titles at doujinshi creator booths this year. Approximately 35,000 circles participate in each semi-annual Comiket, and their stock over the weekend makes for an interesting measure of what's riding high in Japan's fan scene.
Bear in mind that this is a ranking of how many fan circles have works dedicated to these titles, rather than how many individual works are based on them. Some circles specialize in specific titles or characters, while others may have a broader selection.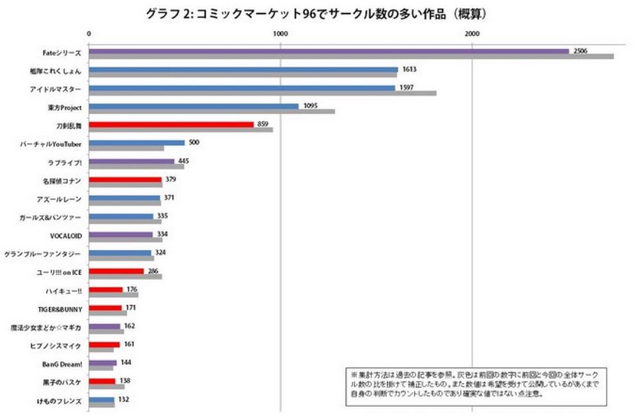 Coming in on top yet again is, unsurprisingly, the Fate series. Though its total of 2,506 participating fan circles is down from the last event, it's still represented by almost 900 more circles than the second most popular title, Kancolle (which stands at 1,615). The ship girl mixed media project was top of the heap for seven consecutive events before being dethroned by Fate at Comiket 93.
Coming in a close third at 1,597 is THE [email protected], dropping significantly from second place at Comiket 95. Touhou Project and Touken Ranbu round out the top five with 1,095 and 859 participating circles, respectively.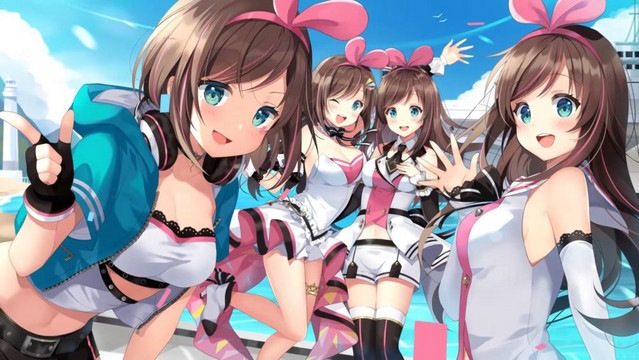 Derivative works dedicated to virtual YouTubers burst onto the scene last Comiket. With an impressive jump to an even 500, Kizuna Ai and her fellow vTubers are the sixth most popular subject matter amongst participating fan circles. Close behind them is Love Live! at 445 circles.
The ever-popular Case Closed ranks 8th, fairly close to last year's numbers at 379. Not far behind is other ship girl series Azur Lane at 371, and GIRLS und PANZER rounds out the top ten at 335.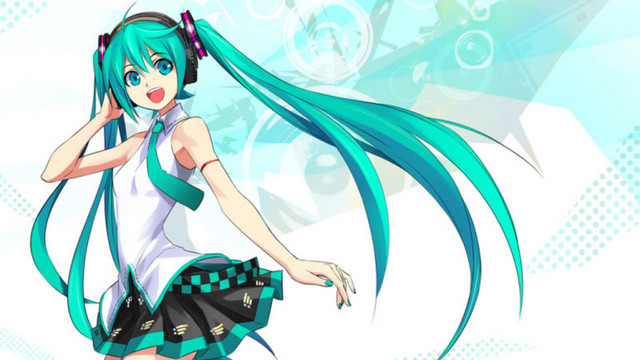 Filling out the top 20 are:
11. Vocaloid (334)
12. Granblue Fantasy (324)
13. Yuri!!! on ICE (286)
14. Haikyu!! (176)
15. TIGER&BUNNY (171)
16. Puella Magi Madoka Magica (162)
17. Hypnosis Mic (161)
18. BanG Dream! (144)
19. Kuroko's Basketball (138)
20. Kemono Friends (132)
Even if your favorite title doesn't show up in the top 20 ranking, the sheer number of participating artists means there's a good chance the show, game, or franchise you love is getting some rep at Comiket this weekend!

-----
Kara Dennison is a writer, editor, and interviewer with bylines at VRV, We Are Cult, Fanbyte, and many more. She is also the co-founder of Altrix Books and co-creator of the OEL light novel series Owl's Flower. Kara blogs at karadennison.com and tweets @RubyCosmos.