Mechanical designer Kunio Okawara draws the art box illustration
Tokyo-based company Happinet announced today that it will release a Blu-ray box of Sunrise's classic super robot TV anime Muteki Koujin Daitarn 3/Invincible Steel Man Daitarn 3 on December 3, 2019. This is first time for the anime to get its BD box.
Following the 23-episode Muteki Chojin Zambot 3/Invincible Super Man Zambot 3 from October 1977 to March 1978, Daitarn 3 was aired for 40 episodes from June 1978 to March 1979. And it was the first collaboration work for Yoshiyuki Tomino (director) and Kunio Okawara (mechanical designer), who later teamed up again for Mobile Suit Gundam.
The price for the six-disc set (988 minutes) is 40,000 yen (before tax/about 375 US dollars). Okawara newly draws the art box illustration. Creditless original Japanese OP/ED movies and Italian OP/ED movies will be included as bonus footage.
【作品ニュース】[無敵鋼人ダイターン3]無敵鋼人ダイターン3 Blu-ray BOX
2019年12月3日(火)発売決定! https://t.co/83jOevZ9Sw

— サンライズ (@SUNRISE_web) August 22, 2019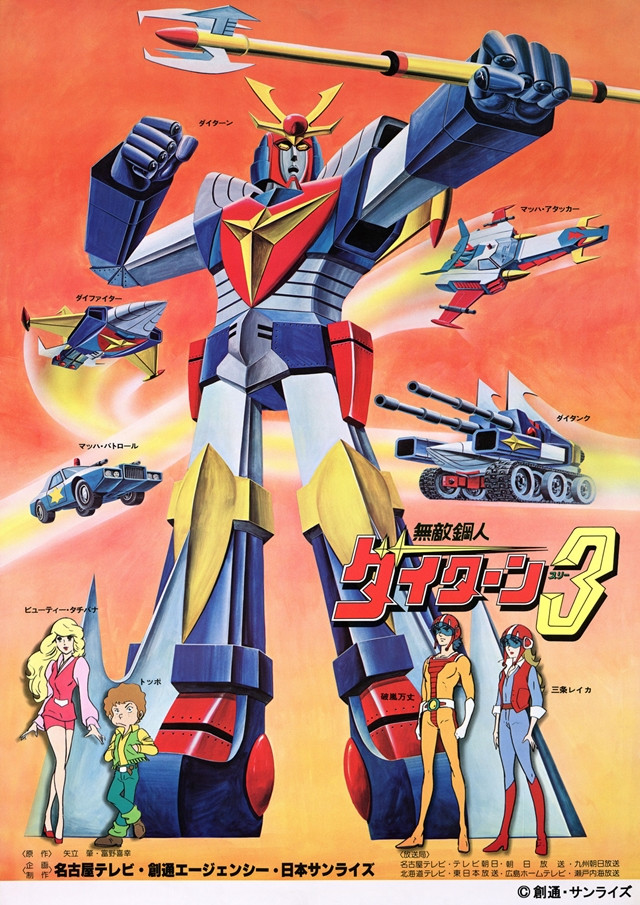 SD/HD comparison video:
---
Source: Happinet press release
©SOTSU/SUNRISE