Lantis Matsuri Tickets Launch on Friday, August 30th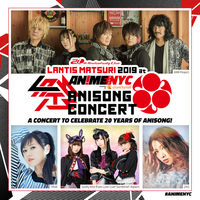 New York, NY (August 24, 2019) - Anime NYC powered by Crunchyroll today announced ticket sales for the first ever Lantis Matsuri anime music concert in New York City beginning on Friday, August 30th. This special concert at New York City's largest Japanese pop culture convention will celebrate the 20th Anniversary of Japanese music label Lantis and feature popular anime song or "anisong" performers JAM Project, TRUE, ZAQ, and Guilty Kiss from Love Live! Sunshine!! Aqours.
Anime NYC will bring together over 40,000 attendees when it returns to the Javits Center for its third year on November 15-17, 2019. It will welcome major guests from across Japan including Riichiro Inagaki and Boichi (creators of Dr. STONE) and Yoshiyuki Tomino (creator of Mobile Suit Gundam).
Lantis Matsuri will take place inside the Javits Center's Special Events Hall at 7:30 PM on Friday, November 15 as a special event concluding Anime NYC's first day. It will feature four legendary performers from Lantis's 20 year history...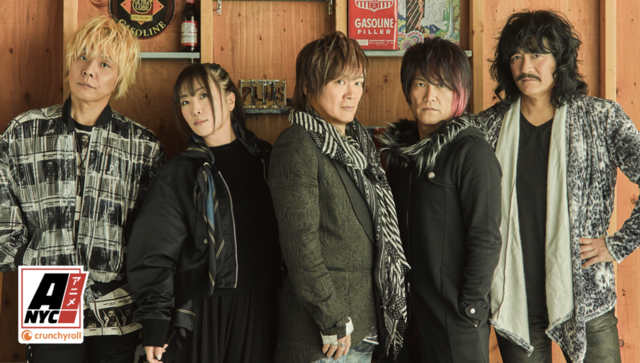 JAM Project - Anisong rock unit formed in 2000. Artists behind both One-Punch Man's Season 1 and Season 2 themes: "The Hero! ~Set Fire to the Furious Fist~" and "Uncrowned Greatest Hero". Also behind themes to Super Robot Wars, Garo, Gravion, Sgt. Frog, Scrapped Princess, Mazinkaiser, Nobunaga the Fool, Panda-Z, Space Battleship Yamato 2199, and more.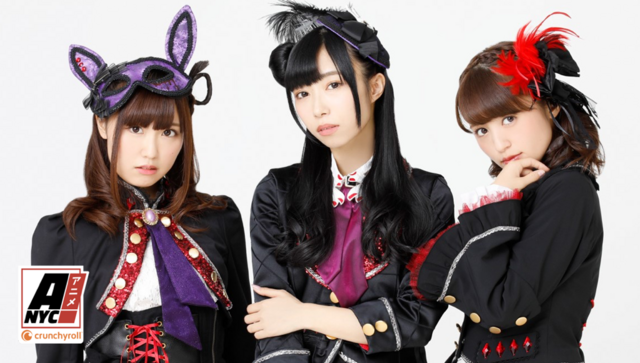 Guilty Kiss from Love Live! Sunshine!! Aqours - Guilty Kiss is a unit created from the school idol group Aqours, which appears in the multimedia school idol project Love Live! Sunshine!! The members are Riko Sakurauchi (voiced by Rikako Aida), Yoshiko Tsushima (voiced by Aika Kobayashi), and Mari Ohara (voiced by Aina Suzuki). Aqours has performed sold out concerts across Japan, Asia, and LA.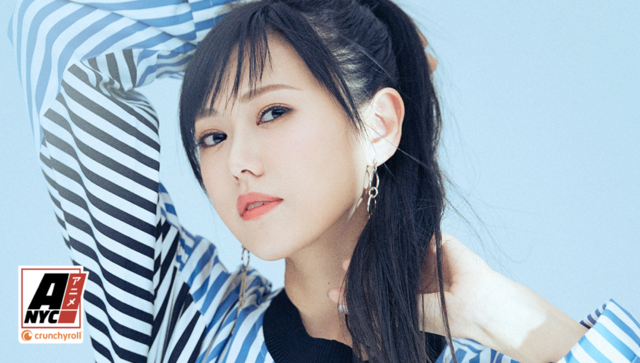 TRUE - Anisong singer most recently recognized for performing "Blast!" from the hit anime movie Sound! Euphonium - Our Promise: A Brand New Day. Also the performer to themes from Mobile Suit Gundam: Iron-Blooded Orphans, That Time I Got Reincarnated as a Slime, Violet Evergarden, and A.I.C.O. -Incarnation-. Performed in Anime Diva Night at Anime NYC in 2017 and Anisong World Matsuri at Anime NYC in 2018.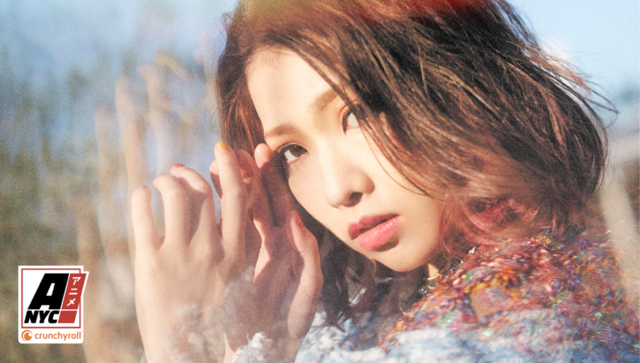 ZAQ - Prolific anisong singer, lyricist, composer, and arranger who wrote songs for other anisong singers before debuting as a singer herself. Has sung themes to Love, Chunibyo & Other Delusions, Concrete Revolutio, Flip Flappers, Food Wars! The Third Plate, The Magnificent KOTOBUKI, Maria the Virgin Witch, Rail Wars, Trinity Seven, and more
Anime NYC admission is not needed to attend this concert event. Instead a separate ticket is required. Tickets will launch at 12 Noon Eastern Time on Friday, August 30 on Anime NYC's ticketing site.
Ticket Information:
VIP Ticket - $135

Early Entry

Seating Block Closest to Stage

Collectible Lantis Matsuri Pass

Lantis Matsuri Starting STYLE!! 2019 Blu-ray signed by JAM Project, TRUE, and ZAQ
Limited Edition Guilty Kiss from Love Live! Sunshine!! Aqours Poster

Limited Edition Lantis Matsuri Knapsack
A Ticket - $60

Seating Block Behind VIP Ticket Holders

Limited Edition Lantis Matsuri Knapsack
B Ticket - $40

Seating Block Behind A Ticket Holders

Limited Edition Lantis Matsuri Knapsack
Lantis Matsuri VIP ticket holders will be able to receive early entry beginning at 6:30 PM and various collectibles including the Japanese Starting STYLE!! 2019 Blu-ray - a commemorative Blu-ray featuring a music video of Lantis Matsuri 2019's official theme song sung by 20 years of Lantis artists. The Blu-ray will be pre-signed by performers JAM Project, TRUE, and ZAQ.
Lantis Matsuri A and B ticket holders will be able to enter beginning at 7:00 PM. All ticket holders will receive a limited edition Lantis Matsuri knapsack with their ticket.
VIP ticket holders will be able to sit anywhere in the VIP section. A ticket holders will be able to sit anywhere in the A section. B ticket holders will be able to sit anywhere in the B section.
"We're excited to showcase Lantis Matsuri for the first time in New York," said Peter Tatara, Anime NYC's Show Director. "Lantis has created 20 years of the most memorable anisong music in the world, and we're proud for the world to now come together to celebrate this anniversary with four of their most legendary performers!"
Additional details will be revealed next month around autograph signings and panels featuring Lantis Matsuri's performers inside Anime NYC. These events will take place on Saturday, November 16 and require Anime NYC admission to attend.
Anime NYC powered by Crunchyroll will continue to announce more guests from both America and Japan throughout the fall. Attendees can look forward to the latest from sponsors, partners, and publishers including Crunchyroll, Animate, Aniplex, BANDAI NAMCO Arts, Bluefin, EVA Air, Funimation, GKIDS, HIDIVE, Kinokuniya, Kodansha Comics, Sentai Filmworks, SUNRISE, Tokyo Otaku Mode, Vertical, VIZ Media, and Yen Press at Anime NYC, and fans wanting to learn the latest can follow Anime NYC on Facebook and Twitter. Tickets to this year's Anime NYC are available now.
ABOUT LANTIS MATSURI:
Lantis is a Japanese music label established on November 26, 1999 which specializes in anime music from Japanese musicians, anime soundtracks, and video game soundtracks. The first Lantis Matsuri was conducted in 2009 to celebrate the 10th anniversary of Lantis's founding and featured exclusively Lantis artists. Since then, Lantis Matsuri has been conducted every five years. In 2014 and 2015, Lantis conducted the "15th Anniversary Live Lantis Matsuri 2014" and "Anisong World Tour~Lantis Festival 2015~". In 2019, Lantis conducted the three-day "20th Anniversary Lantis Matsuri 2019 A・R・I・G・A・T・O ANISONG" concert with over 70 artists and units at Makuhari Messe in Japan. Lantis Matsuri at Anime NYC will be Lantis Matsuri's first edition in New York City. For more information, please visit lantis.jp.
ABOUT ANIME NYC POWERED BY CRUNCHYROLL:
Anime NYC powered by Crunchyroll is New York City's anime convention! A showcase of the best of Japanese pop culture in the biggest city in America, Anime NYC brings anime fans and publishers together for three days of unique exhibits, exclusive screenings, extensive panels, and appearances by some of the biggest creators in Japan. This year's event takes place November 15-17 in New York's Javits Center, and we invite you to join over 40,000 fans for a celebration of Japanese animation, manga, cosplay, movies, food, fashion, travel, technology, toys, and games in the heart of NYC! For more, visit animenyc.com.