Premiere scheduled for Friday afternoon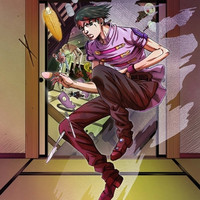 The official website for the Jojo's Bizarre Adventure anime has announced that Crunchyroll Expo will hold the premiere of the latest Thus Spoke Kishibe Rohan OVA episode in "Fugō Mura" (Millionaire Village). The screening will be held on Friday August 30th at 3:30 PM. The latest episode was distributed as a bonus for those that purchased all thirteen home video volumes of the Diamond Is Unbreakable TV anime.
This premiere follows the the most recent announcement of additional Thus Spoke Kishibe Rohan OVA episodes being screened theatrically in December (The Confessional/The Run) and featuring Rohan voice actor Takahiro Sakurai at every screening.
We are so excited to premier 'Fugoumura', JoJo's OVA at Crumchyroll expo!! Be the first to watch this episode outside of Japan✨Come to 220B on this Friday, 3:30 pm!! #jojo_anime #crunchyrollexpo https://t.co/HtWnFoOYCb

— TVアニメ『ジョジョの奇妙な冒険』公式 (@anime_jojo) August 26, 2019