Producer Makoto Kimura, CEO Manabu Otsuka, and the voices of Sakura and Saki to attend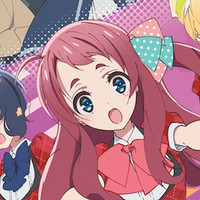 Fans of the ZOMBIE LAND SAGA anime have plenty to look forward to at this week's Crunchyroll Expo 2019, which is right around the corner from August 30 to September 1. Another addition to the overflowing lineup is here with a handful of guests from the always amazing anime studio MAPPA, all of whom will be on hand for a special ZOMBIE LAND SAGA panel.
The guests from MAPPA include producer Makoto Kimura, CEO Manabu Otsuka, Sakura voice actress Kaede Hondo, and Saki voice actress Asami Tano.
We'll see you there, Franchouchou fans!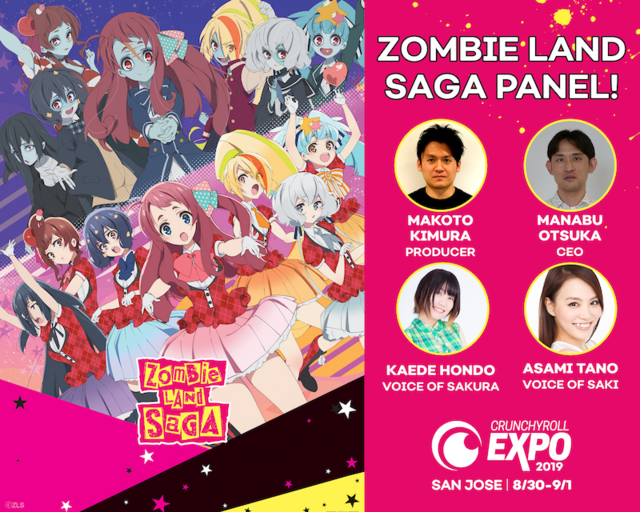 Bios:
Manabu Otsuka
After joining MAPPA in 2011 as animation producer, Manabu Otsuka was responsible for the production of Terror in Resonance (2014), Rage of Bahamut: GENESIS (2014), and Punch Line (2015). In 2016, he assumed the position of MAPPA CEO, and since then has been planning and producing many titles, including YURI!!! on ICE (2016), Kakegurui (2017), Rage of Bahamut: Virgin Soul (2017), Inuyashiki (2017), BANANA FISH (2018), Zombie Land Saga (2018), Dororo (2019).
Makoto Kimura
Since 2007, as a Fuji TV's producer, Makoto Kimura had been responsible for the production of many famous titles, including GUILTY CROWN (2011), Tsuritama (2012), Terror in Resonance (2014), Your Lie in April (2014), and Punch Line (2015). After moving to TWIN ENGINE in 2017, he played a major role in the planning of DIVE!! (2017) and Kokkoku: Moment by Moment (2018). In 2018, he joined MAPPA as the planning producer, and was the chief producer for Zombie Land Saga.
Asami Tano
Asami made her debut in 2002 as the main vocal of the band BOYSTYLE. Since 2007, her activities have broadened significantly to include actress, TV personality, and model. She played key roles in many TV drama series, such as Yamada Tarō Monogatari (2007), Hitomi (2008), and Sirato Osamu no Jikenbo (2012).
Asami made her debut as voice actress as Rin in Toriko (2011), followed by the role of Akane Hino in Smile PreCure! (2012). Since then, she has been involved as a voice actress in many anime, including the roles of Sarah Kazuno in Love Live! Sunshine!! (2016), Mari Yukishiro in Schoolgirl Strikers (2017), and Saki Nikaido in Zombie Land Saga (2018). Asami has also played major roles in many stage dramas, such as Riko Aida in Kuroko's Basketball and Mitsuru Kirijo in the Persona series.
Kaede Hondo
Belongs to I'm enterprise Co.,Ltd.
After making her debut as voice actress in 2015, Kaede won the major roles as Kokoro Yotsuba in Kamisama Minarai: Himitsu no Cocotama and Kukuru Nonomoto in Magical Somera-chan in the same year. Her major works include Yuinshiel Asteria in Regalia: The Three Sacred Stars (2016), Yae Kugayama in Girlish Number (2016), Kon Tatsumi in Urara Meirocho (2017), Kohaku Tsukishiro in Iroduku: The World in Colors (2018), and Sakura Minamoto in Zombie Land Saga (2018). In 2019, Kaedo won the Best Rookie Actresses award in the 13th Seiyu Awards for her role as Hitomi Mishima in Hinamatsuri (2018).
Stay tuned for more CRX updates!
>>Visit the Crunchyroll Expo 2019 Website