Advance screening for its first two episodes will be held on September 29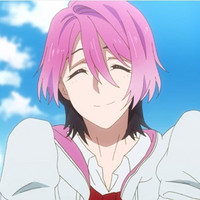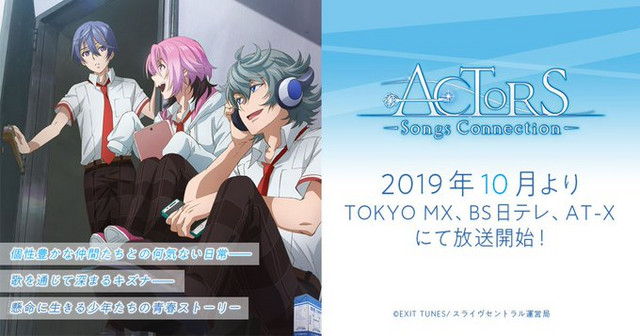 The official website for ACTORS -Songs Connection-, the forthcoming TV anime series based on EXIT TUNES' "ACTORS" vocaloid song CD series by popular male voice actors, has started streaming a two-minute second PV featuring its OP theme song "Titania," and also announced its premiere on TOKYO MX, BS Nittere, and AT-X on October 6, 2019.
2nd PV:
2nd key visual: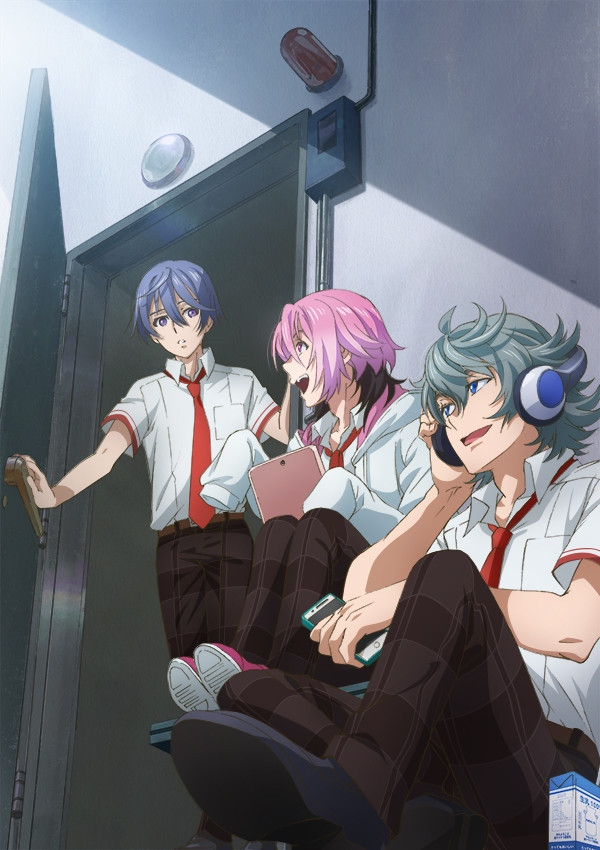 The OP song "Titania" is performed by the unit Sakutasuke consisting of the anime's three main voice cast: Gakuto Kajiwara (Saku Otonomiya), Yuuya Hozumi (Uta Outa), and Wataru Urata (Sosuke Kagura). The three characters are newly created for the anime. Meanwhile, the ED song "INAZUMA SHOCK" will be produced in three editions sung by Sakutasuke, Singing Club, and Archaeology Club. Their CD singles is set to be released on October 30, 2019.
TVアニメ「ACTORS -Songs Connection-」オープニングテーマはサクタスケによる「ティターニア」、エンディングテーマはサクタスケ・歌唱部・考古学部それぞれのユニットよる「INAZUMA SHOCK」に決定!収録されたCDは共に10月30日発売します!https://t.co/IWiwySR9VT#ACTORS_HR pic.twitter.com/G23KeAK5hQ

— ACTORS公式✨ (@ACTORS_info) August 30, 2019
In addition, an advance screening event for the anime's first two episodes is scheduled to be held at the United Cinema Toyosu theater in Tokyo on September 29, 2019. The three main voice cast will also join for a talk show on the stage.
TVアニメ「ACTORS -Songs Connection-」先行上映会開催決定!

日時:9月29日(日)18:30開始(19:50終演予定)
会場:ユナイテッド・シネマ豊洲
料金:全席指定席 2,500円(税込)
内容:1話2話先行上映+キャストトーク
出演:梶原岳人、浦田わたる、保住有哉https://t.co/6EuJItzAbe#ACTORS_HR pic.twitter.com/FdfhzCHo7O

— ACTORS公式✨ (@ACTORS_info) August 30, 2019
---
TV anime 1st PV:
Teaser visual drawn by the anime character designer Asako Nishida
【TVアニメ「ACTORS -Songs Connection-」】
TVアニメのキャラクターデザイン担当の西田亜沙子さんが描いた、 総勢11名のティザービジュアル公開です‼️ 放送が待ち遠しいですね????✨ #ACTORS_HR pic.twitter.com/9oTSyK65mG

— ACTORS✨アニメ3/24情報解禁 (@ACTORS_info) 2019年3月24日
Main staff:
Original story: EXIT TUNES
Original character design: Meka
Director: Osamu Yamasaki (Hakouki, Toward the Terra)
Anime character design: Asako Nishida (Love Live!)
Sound director: Yukio Nagasaki
Music: Hideakira Ohmura, Tomotaka Ohsumi, Hiroaki Tsutsumi
Music production: EXIT TUNES
Anime production: Drive (Rilu Rilu Fairilu)
Production: Thrive Central Management Office
Main voice cast:
Sosuke Kagura: Wataru Urata
Uta Outa: Yuuya Hozumi
Saku Otonomiya: Gakuto Kajiwara
Hinata Mitsutsuka: Souichiro Hoshi
Mistuki Akika: Kenji Nojima
Satsuma Kadonoouji: Ryutaro Okiayu
Ryo Saotome: Tomohiro Tsuboi
Keishi Harumoto: Noriaki Sugiyama
Chiguma Marume: Subaru Kimura
Mike Enjouji: Yuuki Ono
Kai Akizuki: Takuya Eguchi
Washiho Uzuki: Ryota Takeuchi
Tsukasa Odawara: Sho Hayami
Kagetora Nagano: Ryo Horikawa
---
Source: TV anime "ACTORS -Songs Connection-" official website / Twitter
©EXIT TUNES/Thrive Central Management Office