A new key visual featuring the Rebels members was also revealed at Crunchyroll Expo 2019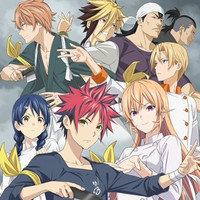 The official Japanese website for Food Wars! Shokugeki no Soma The Fourth Plate, the forthcoming fourth season of the TV anime adaptation of based on the cooking battle-themed manga by Yuto Tsukuda (story) and Shun Saeki (art), announced on September 1 that it is set to premiere on Tokyo MX and BS 11 at 24:30 on October 11, 2019 (JST).
And a new key visual featuring the eight members of the Rebels was revealed for the first time at the special panel for the franchise on the second day of Crunchyroll Expo 2019.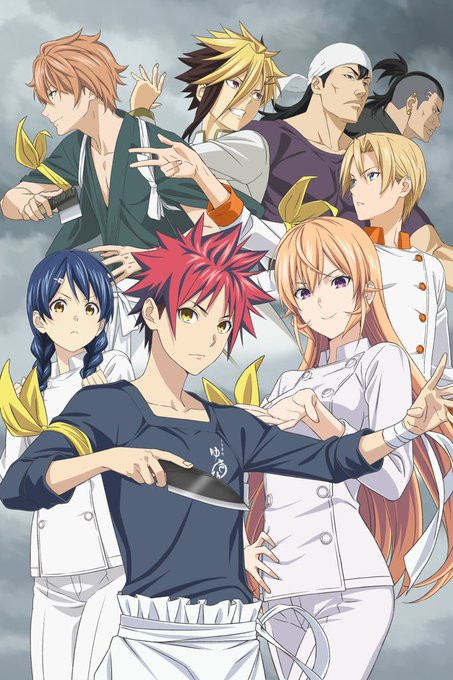 THE NEW KV HAS BEEN REVEALED at #Shokugeki_anime panel!!!!!!!!!!!!#CRX2019 pic.twitter.com/QSG25I89S0

— 『食戟のソーマ』TVアニメ公式 (@shokugeki_anime) August 31, 2019
In addition, seven-minute footage from the fourth season's first episode was also screened for a packed audience.
The premiere of the Food wars S4 Ep.1 just happened...!!!!!!
It was absolutely amazing and from the reaction, I think the people LOVED it too...!!!!

神ノ皿 1話のワールドプレミアが開催されました!
7分間の映像でしたが、観客のテンションは最高潮でした!!!#shokugeki_anime #CRX2019 pic.twitter.com/TxFxIkMuRp

— 『食戟のソーマ』TVアニメ公式 (@shokugeki_anime) August 31, 2019
---
Stoked to serve soon at #CrunchyrollExpo! ???????? pic.twitter.com/9GZiJJlzwe

— Crunchyroll Expo (@crunchyrollexpo) August 31, 2019
"Shokugeki no Soma Special Panel" guests:
Yuto Tsukuda (story writer)
Shun Saeki (illustrator)
Noriko Doi (anime producer from Warner Bros. Japan)
Photos from the panel:
The Food Wars! Premiere panel has started and all the guests are on the stage!!!!!
It's a full house but there are more seats available if you want to join us!!!!#shokugeki_anime #CRX2019 pic.twitter.com/FCxKzgj3pE

— 『食戟のソーマ』TVアニメ公式 (@shokugeki_anime) August 31, 2019
They are praising character designer, Shitaya-san's character design!
None of the characters were rejected by the authors nor editors!

先生たちが下谷さんのキャクターデザインに関して語っております!
デザインに関して、リテイクなどが出ることはほとんど(全く?)なかったそうです…! pic.twitter.com/AilIBqDbt6

— 『食戟のソーマ』TVアニメ公式 (@shokugeki_anime) August 31, 2019
Tsukuda-sense and Saeki-sense are talking about the dish they were most impressed with!

附田先生と佐伯先生が1番記憶に残っている料理について語られています…!#shokugeki_anime #CRX2019 pic.twitter.com/yGLWnWa50k

— 『食戟のソーマ』TVアニメ公式 (@shokugeki_anime) August 31, 2019
The venue was full! It was really fun for everyone to come. Did you enjoy yourself?#CrunchyrollExpo #FoodWars #shokugeki_anime https://t.co/Mv6usYvp7r pic.twitter.com/Iz1oHM0Y4R

— 『食戟のソーマ』TVアニメ公式 (@shokugeki_anime) August 31, 2019
Food Wars! guests at #CrunchyrollExpo thank you so much for coming everyone!!! pic.twitter.com/hUHfhYkuck

— Crunchyroll Expo (@crunchyrollexpo) August 31, 2019
---
Source: TV anime "Shokugeki no Soma" offisicl website / Twitter
© Yuto Tsukuda, Shun Saeki/ Shueisha,Food Wars! Shokugeki no Soma Committee 4