With a funding goal of 15,000,000 yen (about 141,540 US dollars)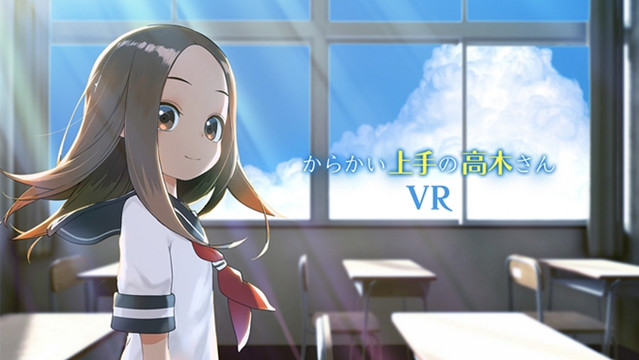 Kanagawa-based company Kayac has launched a crowdfunding campaign for a VR anime project inspired by Soichiro Yamamoto's romantic comedy manga KARAKAI JOZU NO TAKAGI-SAN on the Japanese crowdfunding service Makuake.
With the Oculus Quest VR headset, you can virtually experience Takagi-san's various teasing attempts through the viewpoint of the protagonist Nishikata. You can even go home and play beach ball with her in the VR world. In addition to popular episodes from the manga, the VR anime will also offer newly-written original stories.
The manga author Yamamoto says, "I am glad to see it becoming a VR anime following the TV anime. I am looking forward to seeing its completion." The crowdfunding's goal is 15,000,000 yen (about 141,540 US dollars), and it will open until 18:00 on October 30, 2019 (JST). If the campaign reaches its goal, the KARAKAI JOZU NO TAKAGI-SAN VR anime will be released in December 2019.
"KARAKAI JOZU NO TAKAGI-SAN" VR project PV 1:
▶︎「からかい上手の高木さん」をVRアニメに!!

西片目線で、高木さんのからかいを擬似体験できる
VRアニメ制作プロジェクトが本日始まりました!

makuakeにてクラウドファンディングが
始まってますので、ご支援よろしくお願いします^^https://t.co/UGb8gQawGK #高木さんVR #高木さんめ pic.twitter.com/BGi8A9w2tl

— ゲッサン編集部 (@gessanofficial) September 4, 2019
---
Source: Kayac press release
©KARAKAI JOZU NO TAKAGI-SAN VR PROJECT