"I had never dreamed of having an opportunity to sing my own songs."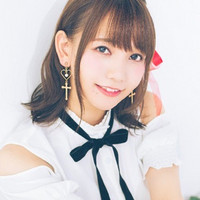 Japanese record company Nippon Columbia announced on September 8 that 25-year-old anime voice actress Azumi Waki will make her solo singer debut in the winter of 2020. Her official artist site, staff Twitter and Instagram have also opened.
Waki was born in Tokyo on September 8, 1994, and yesterday was her 25th birthday. After graduated from the Tokyo Anime Voice Acting College, she made her professional voice actress debut as Sanae Katagiri in The [email protected] Cinderella Girls franchise in 2015. Since then, she has voiced Galko in Please Tell Me! Galko-chan (2016), Maika Sakuranomiya in Blend-S (2017), Special Week in Uma Musume Pretty Derby (2018), Rem Galleu in How Not to Summon a Demon Lord (2018), and Senko in The Helpful Fox Senko-san (2019).
Message from Azumi Waki:
"Hello everyone! I'm Azumi Waki. It is decided that I will make an artist debut from Nippon Columbia! It's still a surprising thing for me...! I have sung many songs as my characters, but I had never dreamed of having an opportunity to sing my own songs. From now on, I will enjoy singing in my own way! I would appreciate your suppot!"
????????アーティストデビュー決定????????

声優の和氣あず未(@azumi_waki )さんが今冬 #アーティストデビュー をすることが決定✨????リリース時期等は後日発表!お楽しみに✨

アカウントOPEN✅
⭐STAFF公式ツイッター @staff_azumi
⭐STAFF公式Instaglamhttps://t.co/VABkD0LNP3#和氣あず未

— 日本コロムビア (@NipponColumbia) September 8, 2019
---
Source: Nippon Columbia
©2019 NIPPON COLUMBIA CO.,LTD.