The film took No.1 both in Pia and Filmarks' first day satisfaction ranking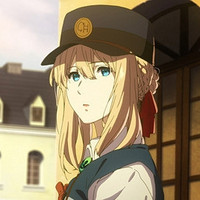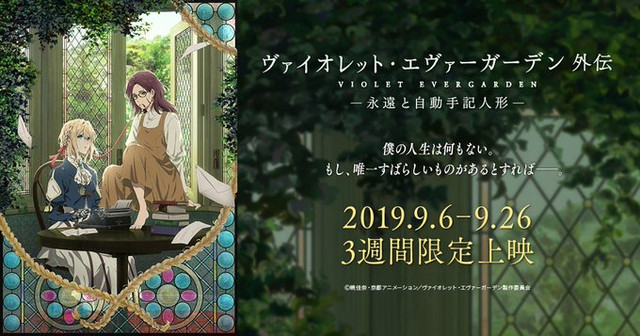 The official website for Violet Evergarden: Gaiden - Eien to Jidou Shuki Ningyou - (Violet Evergarden: Spin-Off - Eternity and Auto Memory Doll -) announced on September 13 that the film will continue its theatrical run in selected theaters in Japan after September 27 due to popular demand.
The film originally planned a limited two-week run from September 6 to 20. But after the July 18 arson attack (the film was completed one day before it), the studio decided to add one more week to run until September 26. It was released in 83 theaters across Japan on the planned September 6 and was well-received by the audience, ranking sixth in the box office ranking in its first weekend. It even took No.1 both in Pia and Filmarks' first day satisfaction ranking.
Since the film's website has revealed bonus items for its fourth and fifth week theatergoers, it is expected to run at least two more weeks in Japan.
【上映期間延長決定!】
好評につき『#ヴァイオレット・エヴァーガーデン 外伝 - 永遠と自動手記人形 -』が一部劇場にて9月27日以降も上映されることが決定いたしました!大変多くの反響を頂き、誠にありがとうございます!
※上映劇場は随時告知予定です。https://t.co/s0SjUkFxjG#VioletEvergarden pic.twitter.com/UqnTfmIUqV

— 「ヴァイオレット・エヴァーガーデン」公式 (@Violet_Letter) September 13, 2019
The fourth week theatergoers (September 27-) will receive an original mini colored paper drawn by the character designer/chief animation director Akiko Takase, then the fifth week audience (October 4-) will get one of the four newly-written novel books (same items for the first three weeks) randomly again.
『#ヴァイオレット・エヴァーガーデン外伝』第4週目入場者プレゼントの配布が決定いたしました!
キャラクターデザイン・総作画監督の高瀬亜貴子による、新規描き下ろしイラストミニ色紙を9/27(金)より数量限定にて劇場への来場者にプレゼントいたします。https://t.co/7mzkx7sUyp#VioletEvergarden pic.twitter.com/VLzUxTjfb2

— 「ヴァイオレット・エヴァーガーデン」公式 (@Violet_Letter) September 13, 2019
また5週目には、ご好評につき、原作者・暁佳奈の書き下ろし短編小説冊子を10/4(金)より数量限定にて来場者に再配布されることが決定!(4種ランダム配布)
※第1~3週目入場者プレゼントの小説冊子の再配布となります。全巻収納ケースの配布はございません。https://t.co/7mzkx7sUyp#VioletEvergarden pic.twitter.com/i24l8Pt70Q

— 「ヴァイオレット・エヴァーガーデン」公式 (@Violet_Letter) September 13, 2019
Trailer:
Poster visual: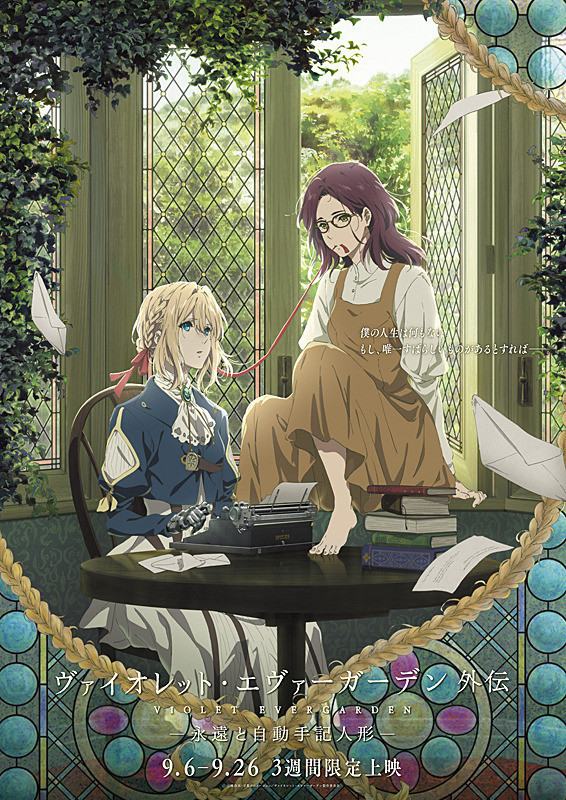 ---
Source: "Violet Evergarden: Spin-Off - Eternity and Auto Memory Doll -" official website / Twitter
©Kana Akatsuki, Kyoto Animation/Violet Evergarden Production Committee