Let's explore how Hideo Kojima's new game was shown off at TGS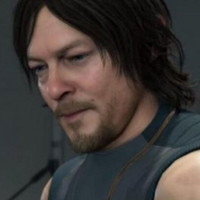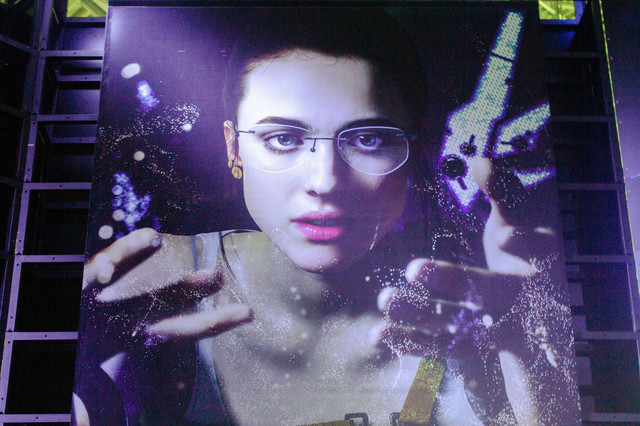 Death Stranding was the game on everyone's mind at Tokyo Game Show, and its many booths made sure people couldn't forget about it. Our Japan Correspondent, Daryl Harding, was at Tokyo Game Show this weekend to try and discover what the game was all about (spoilers, he just got more confused).
---
Out of all the games I wanted to try out over Tokyo Game Show, Hideo Kojima's Death Stranding was the one I wanted to play the most, but alas, there wasn't any demo to play. What they did have was a few booths with some ... interesting experiences.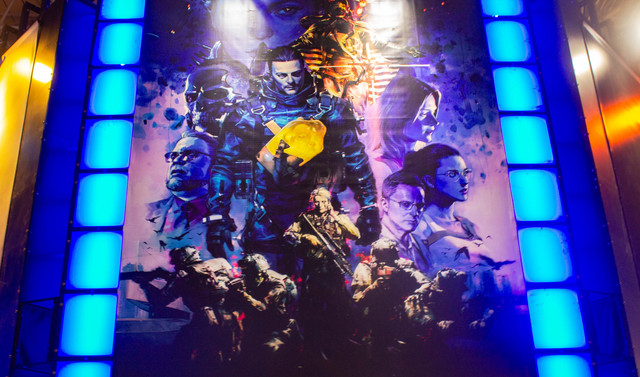 By far it was the biggest area was on the corner of the Sony booth. It was hard to miss the giant Mads Mikkelsen standing over a baby with black goo pouring out of his eyes near the entrance to TGS.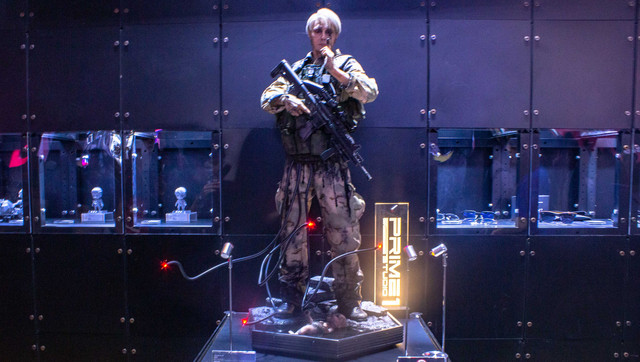 Behind the Mads lad was his own Nendoroid that was announced over the weekend and some pairs of J.F Rey glasses, which is one of two real life companies that will be featured in the game that also had their products at Tokyo Game Show. You'll see the other soon enough.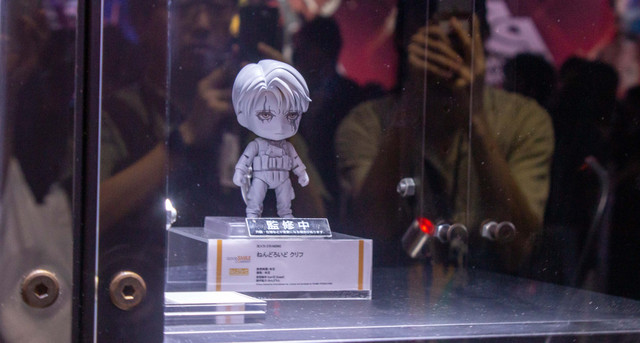 The glasses are able to be worn by the player character in Death Stranding to buff their style points. You're also able to purchase the glasses in real life to get a buff to your own coolness stat.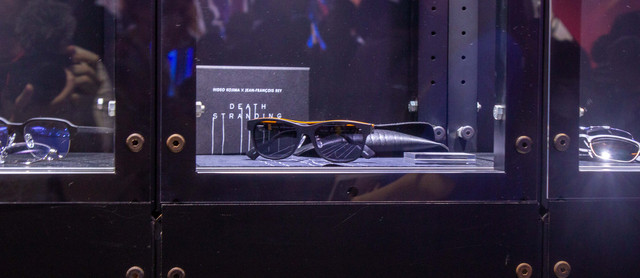 The booth itself was just a semi-enclosed room with a giant screen and concept art on each side. When I walked in, the new 7 minute trailer that was released online was playing. Then, they played a gameplay trailer featuring Sam (Norman Reedus) unlocking a base of sorts.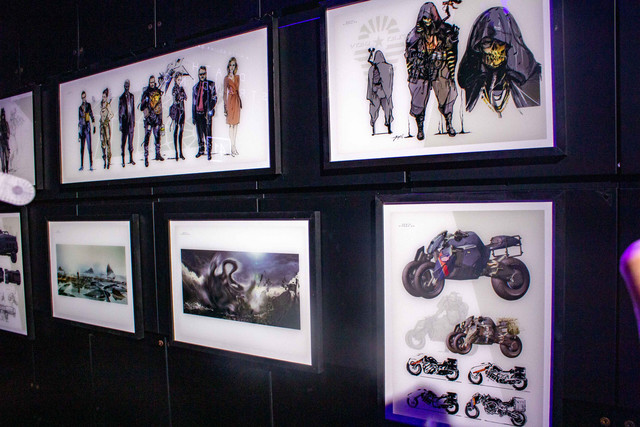 The trailer started off with Sam peeing in the wet American landscape. After his pee meter emptied, a virtual mushroom grew on the pee-soaked rock. Continuing on, Sam comes across a Matthew Mercer voiced Geoff Keighley (host of The Game Awards and part of Kojima's friendship harem). Keighley seems to be playing a guide for Sam for his journey across what is left of the United States.
Nearing the end of the trailer, Sam falls down a cliff which makes the baby he is carrying cry. What could only be described as the most surreal experience of the weekend, the trailer ended with Sam cradling this pod baby and singing it a lullaby, all with button prompts.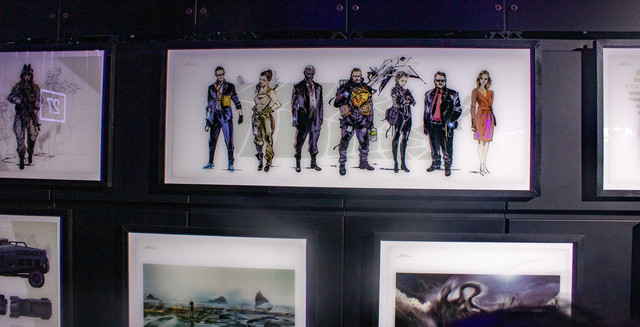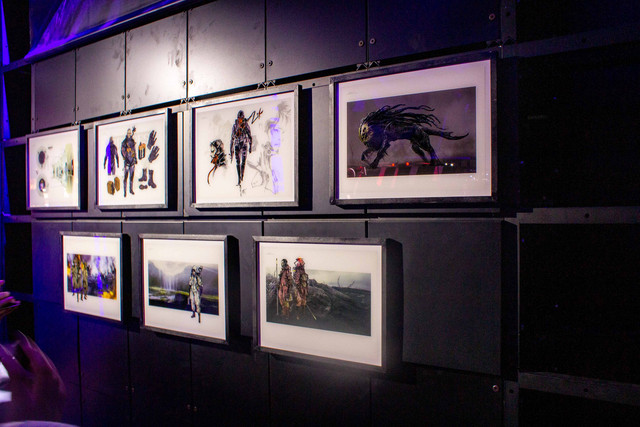 In another hall, tucked away behind the Cyberpunk 2077 booth, was the Monster Energy booth. Stationed all throughout Tokyo Game Show were little stations giving away energy drinks, but Monster's booth was by far the largest for just one reason: Death Stranding.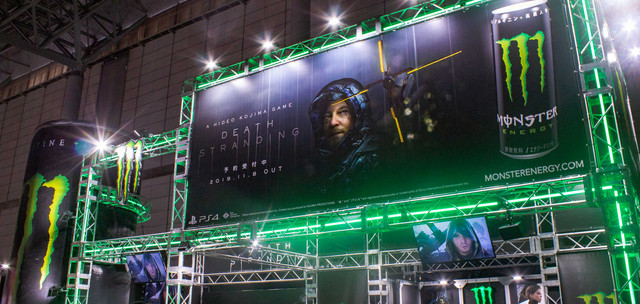 If Sam lacks energy at any time in the game, he's able to take a swig from his bottle and a notification that reads 'Monster Energy drink consumed' pops up on the screen. Then his energy meter gets refilled (and assumably his pee meter does as well). While the logo isn't shown on Sam's bottle, the trademark cans will feature in the game.
Considering the can of drink Monster were giving away was based on Death Stranding, I had to give it a try. To my enjoyment, it tasted pretty good and filled up both my meters. If it worked for me to continue getting through Tokyo Game Show, then I'm sure it'll do well for Sam on his journey to reconnect people.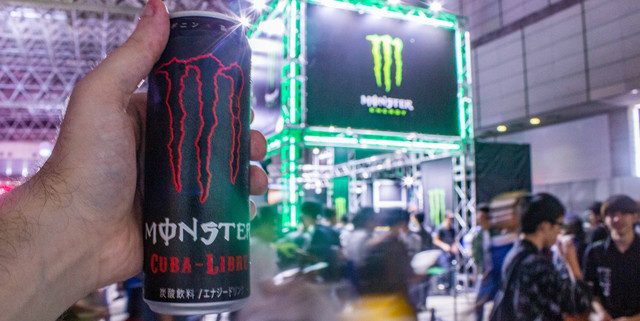 Death Stranding will be released on PS4 on November 8 worldwide. The game won a "Future Division" Award from the Japan Game Awards over the weekend alongside 10 other titles.

----
Daryl Harding is a Japan Correspondent for Crunchyroll News. He also runs the YouTube channel about Japan stuff called TheDoctorDazza, tweets at @DoctorDazza and posts photo of his travels on Instagram.