Toshiki Fukushima (MAJOR)-directed new sports anime is set to premiere in the spring of 2020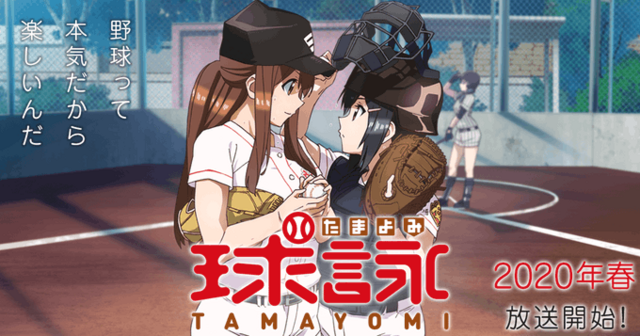 The official website for the forthcoming TV anime adaptation of Mountain-Pukuich's high school girls baseball-themed manga Tamayomi has announced its 11 main voice cast including Kaori Maeda (Aria Futaba in Aikatsu Stars!) as the protagonist Yomi Takeda, as well as the main character visuals.
23-year-old Maeda was the Grand Prix winner of the "2016 Voice Actor Artist Raising Program Selection" audition, and made her professional voice actor debut by playing several minor characters in the TV anime 100% Pascal-sensei in the following year. Yomi Takeda is her first anime leading role.
Maeda says, "She is bright, strong, and cute. It's like a dream to be able to play such a wonderful girl! With passionate feeling, I will do the best I can together with Yomi and other members. This is the first time for me to play a leading role in my career, so there will be things that I am not used to, but I will do my best to make 'Tamayomi" fantastic!"
発表された!✨
改めまして2020年春放送のTVアニメ【球詠】にて、主人公 武田詠深役を演じさせて頂くことになりました!
詠深ちゃんたちと一緒に熱い青春を全力投球でお届けします!!⚾️
可愛いくて全力な彼女たちの物語をお楽しみに!
どうぞよろしくお願いします✨https://t.co/ynsFJsQMpw#球詠 pic.twitter.com/8gbOJjT3dw

— 前田 佳織里 (@kaor1n_n) September 20, 2019
Main voice cast:
Yomi Takeda: Kaori Maeda
Tamaki Yamazaki: Satomi Amano
Nozomi Takamura: Ruriko Noguchi
Sumire Fujita: Marie Hashimoto
Risa Fujiwara: Airi Eino
Ryo Kawasaki: Rina Kitagawa
Ibuki Kawaguchi: Miyu Tomita
Rei Okada: Yume Miyamoto
Shiragiku Omura: Rina Honnizumi
Yoshino Kawaguchi: Nao Shiraki
Kyoka Fujii: Haruka Yoshimura
【発表!】#球詠 新越谷ナイン11名のキャスト&キャラ設定解禁!

武田詠深 #前田佳織里
山崎珠姫 #天野聡美
中村希 #野口瑠璃子
藤田菫 #橋本鞠衣
藤原理沙 #永野愛理
川﨑稜 #北川里奈
川口息吹 #富田美憂
岡田怜 #宮本侑芽
大村白菊 #本泉莉奈
川口芳乃 #白城なお
藤井杏夏 #佳村はるか#tamayomi pic.twitter.com/Wt72HmNojx

— TVアニメ『球詠』(たまよみ)公式 (@tamayomi_PR) September 20, 2019
---
The TV anime Tamayomi is set to premiere in Japan in the spring of 2020. Toshiki Fukushima (MAJOR) is attached to direct alongside series composition writer Touko Machida (Are You Lost?) and character designer Koichi Kikuta (KonoSuba: God's Blessing on this Wonderful World!). studio A-CAT (Over Drive Girl 1/6) works on anime production.
The original manga has been serialized in Manga Time Kirara Forward since its June 2016 issue, and five tankobon volumes have been released in Japan. Its story is set in a world that girls baseball has become a major sports in Japan. It follows the members of the girls baseball club at Shinkoshigaya High School located in Shinkoshigaya-city in Saitama Prefecture, and their challenge to compete in Japanese High School Baseball Championship. The protagonist girl Yomi Takeda is good at throwing breaking balls and has a "magic ball" that she didn't use during her junior high days because no catcher was able to catch it. She reunites with her childhood friend Tamaki Yamazaki at high school and decides to form a battery with her.
TV anime teaser visual: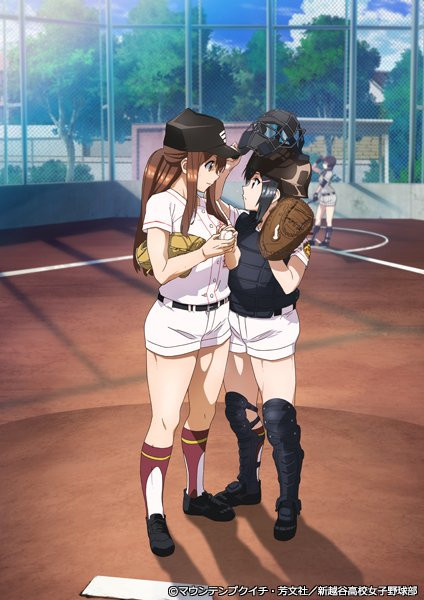 ---
Source: TV anime "Tamayomi" official website / Twitter
© Mountain-Pukuichi,HOUBUNSHA/Shinkoshigaya High School Girls Baseball Club