Filming now underway with Danny Ramirez (Assassination Nation) cast as lead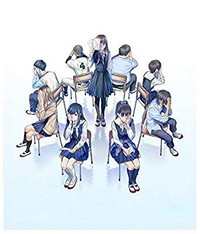 For fans of the visual novel √Letter, this might come as a complete surprise, but it turns out that there's a live action adaptation currently filming, but not in Japan. This comes not long after a feature film was announced in 2018 to tie into additional projects involving the franchise, but most wrote off the feature film getting off the ground, as so many Hollywood adaptations of Japanese media fall into development hell, making this one a rare exception.
According to Variety, filming for Root Letter is currently underway in Shreveport, Louisiana and began on September 16th. The cast alongside Ramirez also features Keana Marie and Lydia Hearst with the screenplay being written by David Ebeltoft as a grittier interpretation of the game's core narrative, where the protagonist is in search of a former pen pal who disappears under curious circumstances.
Of note is that this adaptation features extensive involvement from the US arm of mobile game developer and publisher Akatsuki Entertainment which is producing and financing the film with Kadokawa serving an advisory role. Will you go see this adaptation of the game, or skip it? I'm intrigued, but I enjoyed the original visual novel immensely for the narrative structure. Let's hope the film manages to retain the spirit of the visual novel.
via Variety