Kairi Jo (13) and Rihiti Itagaki (17) are cast as Ray and Norman, respectively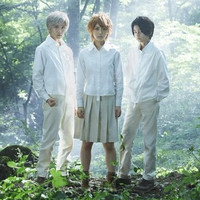 After the surprising announcement for the live-action film adaptation of Kaiu Shirai (story) and Posuka Demizu (art)'s dark fantasy shonen manga Yakusoku no Neverland/The Promised Neverland, 19-year-old actress Minami Hamabe, who is cast as the protagonist Emma, expressed her feeling about playing the role on her official Twitter account.
"In The Promised Neverland film, I am playing the role of Emma. I have always loved the original manga. Because I love it, I felt the difficulty of adapting it into a live-action film. To make many people enjoy, we have been working on this film while facing various challenges sincerely. Some scenes are still unfinished, and I will do my best until the end."
映画『約束のネバーランド』にて
エマ役を演じることになりました。
原作がずっと大好きで、この作品の実写化への難しさは、好きだからこそ感じました。沢山の方に楽しんでいただけるように、色んな壁にきちんと向き合い、作品をつくっています。あと少し撮影は残っていますが最後まで精一杯頑張ります pic.twitter.com/Z34sMzhgVJ

— 浜辺美波 (@MINAMI373HAMABE) September 27, 2019
In fact, Hamabe is no stranger to live-action film adaptations based on popular Japanese manga anime. Her notable roles include:
Meiko "Menma" Honma in Anohana: The Flower We Saw That Day (2015)
Saki Miyanaga in Saki (2016-2018)
Ayuha Samaru in Sensei Kunshu (2018)
Yumeko Jabami in Kakegurui (2018-2019)
As reported, while following the original manga's basic story, the shipping age of the children in the film is changed from the manga's 12 years old to 16. Hamabe plays Emma whose age is probably 15 years old in the beginning of the film, alongside 13-year-old Kairi Jo as Ray and 17-year-old Rihito Itagaki as Norman.
Itagaki also says on Twitter:
"I am playing Norman in The Promised Neverland film. In the winter of 2020, I will love everyone in GF with all my heart, and will definitely make the prison break successful. I know you may all have different opinions, but I appreciate if you can support us."
映画『約束のネバーランド』
ノーマン役を演じさせていただく事になりました。
2020年冬、GFのみんなを心から愛し、必ず脱獄を成功させます。
様々なご意見有るかとは思いますが、どうぞ宜しくお願い致します。 https://t.co/MlQ2oqUzWZ

— 板垣李光人✖️スタッフ (@itagaki_rihito) September 27, 2019
The live-action film adaptation is directed by 47-year-old Yuichiro Hirakawa, who previously worked on the live-action film adaptation of Kei Sanbe's mystery manga Boku dake ga Inai Machi/Erased in 2016, on a screenplay penned by his Erased partner Noriko Goto. It is set to be released in Japan in the winter of 2020.
実写映画化決定

主人公エマ(#浜辺美波)×レイ(#城桧吏)×ノーマン(#板垣李光人)に決定

全世界で累計発行部数1600万部を越える″異色″の脱獄サスペンス作品「約ネバ」が2020年冬、ついに実写映画化

映画の詳細はこちら↓https://t.co/Dah7KmvP3d#約ネバ #実写映画化#2020年冬公開 pic.twitter.com/TVNsXJjPNs

— 『約束のネバーランド』公式 (@yakuneba_staff) September 27, 2019
そして、現在絶賛撮影中の現場から届けられた場面写真も解禁‼
圧倒的なロケーションの中で撮影された「約ネバ」の世界観は必見です????

また、イザベラをはじめとする他のキャストは誰なのか??
今後の情報解禁をお楽しみに✨

映画公式サイト↓https://t.co/Dah7KmvP3d#約ネバ#2020冬公開 pic.twitter.com/gWyk3i6vKJ

— 『約束のネバーランド』公式 (@yakuneba_staff) September 27, 2019
---
Source: "The Promised Neverland" official Twitter, the live-action film's official website
© Kaiu Shirai, Posuka Demizu/SHUEISHA
© 2020 Movie "The Promised Neverland" Production Committe