Yuta Murano (How Not to Summon a Demon Lord)-directed film hits Japanese theaters on December 13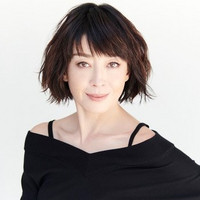 It is officially confirmed today that 46-year-old actress Rie Miyazawa makes a special guest voice appearance as Hitomi Nakayama in the forthcoming anime film adaptation of Osamu Souda's juvenile novel Bokura no Nanokakan Sensou / Seven Days War.
Miyazawa, 15 years old at the time, played her first leading role Hitomi Nakayama in the novel's first live-action adaptation film in August 1988, and won the Newcomer of the Year award in Japan Academy Prize. Her character in the anime film is introduced as "Hitomi Nakayama in 2020." It means that the anime film is a sequel to the live-action film, set about thirty years after.
It is a similar approach to Mamoru Hosoda's 2006 anime film The Girl Who Leapt Through Time. It was set twenty years after Nobuhiko Obayashi's 1983 live-action film adaptation of Yasutaka Tsutsui's original The Girl Who Leapt Through Time novel, and the original heroine Kazuko Yoshiyama made a guest appearance.
Miyazawa says, "Although it is a small appearance, I participated the anime film as Hitomi Nakayama. As my debut film 'Seven Days War' has been remained deep in the audience's memories at the time, I hope this anime film, which is given a new timeless breath, will be also able to shake your heart. Please enjoy this film on the big screens in theaters."
????情報解禁????

映画『ぼくらの7日間戦争』に、#宮沢りえ さんの出演が決定しました!????

演じるのは、宮沢さんがかつて女優デビューを飾った、
????実写版「ぼくらの七日間戦争」のヒロイン中山ひとみ役。

映画から30年後の大人になった姿を再び演じます!✨✨https://t.co/8zNvsXdRIq#7日間 pic.twitter.com/ODBDJxojwF

— 映画『ぼくらの7日間戦争』 (@7dayswar_movie) September 29, 2019
The Yuta Murano (How Not to Summon a Demon Lord)-directed film is set to be released in Japan on December 13, 2019.
Teaser trailer
Main voice cast:
Mamoru Suzuhara: Takumi Kitamura
Aya Chiyono: Kyoko Yoshine (Jun Naruse in The Anthem of The Heart live-action film)
Kaori Yamasaki: Megumi Han
Souma Ogata: Tatsuhisa Suzuki
Hiroto Honjo: Takeo Otsuka
Saki Akutsu: Haruka Michii
Mallet: Makoto Koichi
Masahiko Honda: Takahiro Sakurai
---
Source: "Bokura no Nanokakan Sensou/Seven Days War" anime film official website / Twitter
©2019 Osamu Souda/KADOKAWA/Bokura no Nanokakan Sensou Production Committee