The story is set right after the 2020 Tokyo Summer Olympics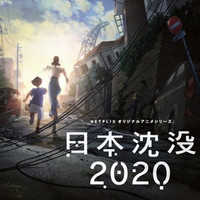 Netflix Japan announced today that Nippon Chinbotsu 2020 / Japan Sinks 2020, a ten-episode web anime series based on Sakyo Komatsu's 1973 bestseller sci-fi novel Nippon Chinbotsu / Japan Sinks, is set to be streamed worldwide in 2020. Massaki Yuasa (Mind Game, Lu over the Wall), who previously worked on DEVILMAN crybaby for the streaming service in 2018, is attached to direct at his own production studio SCIENCE SARU.
The novel has been adapted into live-action three times: the 1973 feature film directed by Shiro Moritani, the 1974-1975 TV drama (26 episodes), and the 2006 feature film by Shinji Higuchi (Shin Godzilla). This is the first anime adaptation of Komatsu's top-selling novel.
The story of the 2020 web anime is set right after the 2020 Tokyo Summer Olympics, and follows the fate of the four members of the Muto family, including the protagonist girl Ayumu and his younger brother Gou. The two are featured in the teaser visual also revealed today.
Message from Masaaki Yuasa:
"What is a country? What dose the Japanese people mean? What is decided by the place of birth and its environment? Or nothing is decided? I will challenge this big title to answer those questions that I had in my childhood. By focusing on one family who is evacuating through a national catastrophe that happens in the Olympic year, along with the people who happen to be there and whom they meet, we will tell the details of the great disaster! Please look forward to it."
Main staff:
Director: Masaaki Yuasa
Series director: Pyoungkang Heo
Screenplay: Hisao Yoshitaka
Music: Kensuke Ushio
Character design: Naoya Wada
Color design: ken Hashimoto
Director of photography: Toshikazu Hisano
Sound director: Eriko Kimura
Editing: Kiyoshi Hirose
Anime production: SCIENCE SARU
Production: "JAPAN SINKS:2020" Project Partners
Netflixオリジナルアニメシリーズ『#日本沈没2020』制作決定!!

『夜は短し歩けよ乙女』『夜明け告げるルーのうた』『DEVILMAN crybaby』等で世界的な評価を受ける #湯浅政明 監督が #小松左京 の傑作小説を大胆にアニメ化!

いま描くべき日本が、ここにある。#japansinks2020 pic.twitter.com/NfzipUvtiE

— japansinks2020 (@japansinks2020) October 8, 2019
---
Source: "Japan Sinks 2020" official website / Twitter
©"JAPAN SINKS:2020" Project Partners