General sales of the tickets will be gin on November 10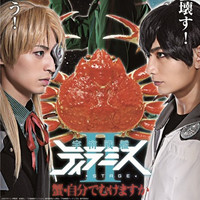 Following the very successful first show last summer, the stage play play adaptation of Satoshi Miyakawa (story) and Kei Ito (art)'s sci-fi comedy manga Uchu Senkan Tiramisu/Space Battleship Tiramisu is set to return this winter. Its official website is updated with a key visual to introduce its three main cast: Kentaro Menjo (Subaru Ichinose), Gaku Takamoto (Isuzu Ichinose), Kairi Miura (a co-op's person), as well as a tagline "A crab destroys the world! A song saves the love!"
The first play's Kazuhito Yoneyama (Romancing Saga, La Corda d'Oro) is again attached to direct on a script by Yuusei Naruse (Yowamushi Pedal stage plays). All of the main cast are confirmed to reprise their roles. It is scheduled to be performed at the Matsushita IMP Hall in Oasaka from December 27 to 29, 2019, then at Shinagawa Prince Hotel Club ex in Tokyo from January 8 to 19, 2020. General sales of the tickets will begin on November 20.
Second play key visual: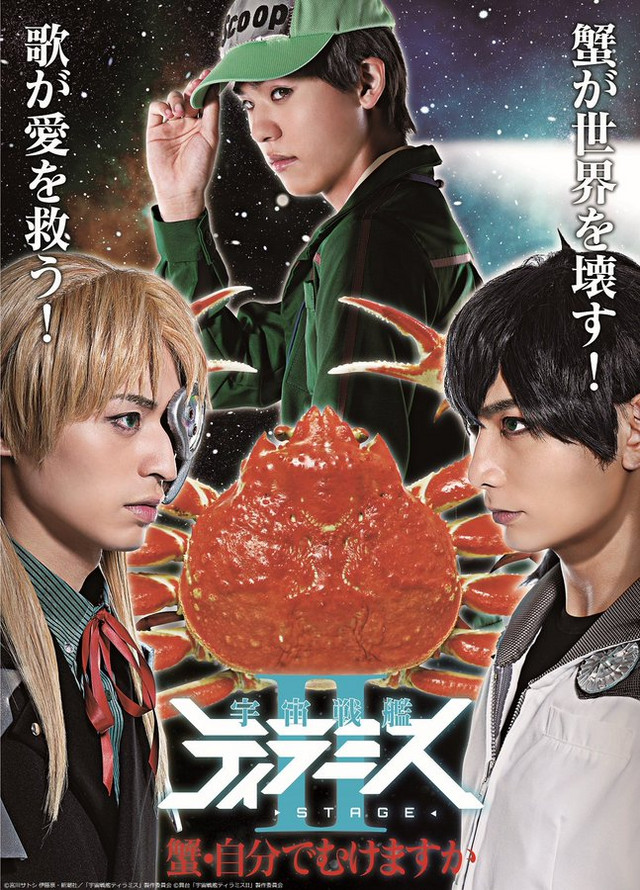 【KV解禁】ティラステ蟹のキービジュアル画像を解禁しました!!
向かい合うスバルとイスズ、そしてその間に鎮座する蟹…。生協の人はどのようにストーリーに絡んでくるのか!?その真相は劇場にて!!https://t.co/mxeaZvdm1a #ティラステ #宇宙戦艦ティラミス pic.twitter.com/Z8AdEBrVul

— 舞台『宇宙戦艦ティラミスⅡ』公式 (@tiramisu_stage) October 10, 2019
Main cast:
Subaru Ichinose: Kentaro Menjo (Amatsu Ida in Prince of Stride The Live Stage)
Isuzu Ichinose: Gaku Takamoto (Prussia in Hetalia ~in the new world~)
A co-op's person: Kairi Miura (Tadashi Yamaguchi in Hyper Projection Play Haikyu!!)
Vulgar Hummer: Yusuke Ueda (Kippei Tachibana in The Prince of Tennis musical)
Subaru-B: Kotaro Ito (Simon in Tengen Toppa Gurren Lagann stage play)
Ligier Leroy: Kaede Fujimoto
Venturi Leroy: Ryuko Isogai (Senri Chisato in The Prince of Tennis musical)
---
PV for the first play's DVD:
DVD jacket: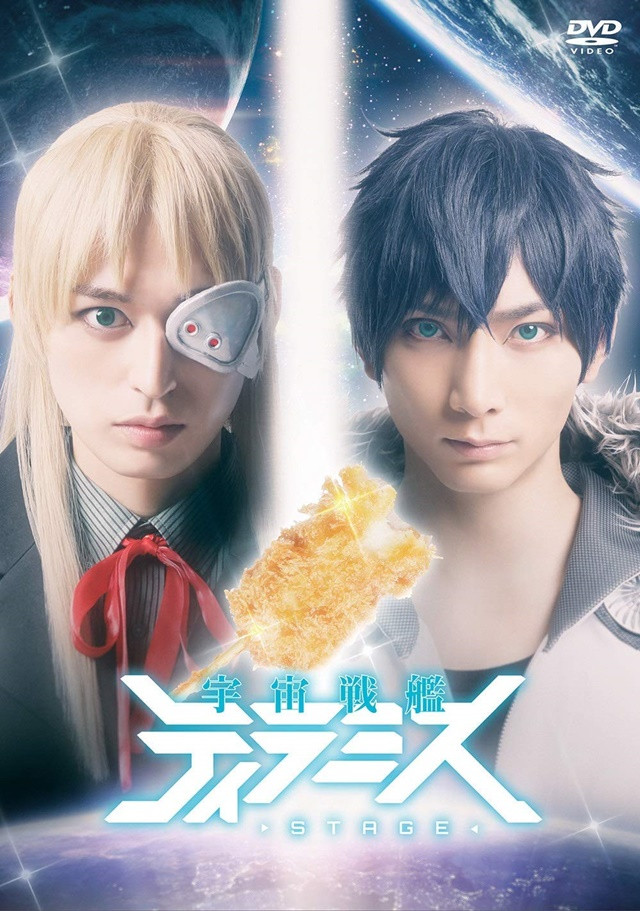 ---
Source: "Space Battleship Tiramisu" stage play official website / Twitter
© Satoshi Miyakawa, Kei Ito, Shinchosha/"Space Battleship Tiramisu" Production Committee
© Stage Play "Space Battleship Tiramisu" Production Committee