Director Hanabusa (Kakegurui): "There's no choice but to create the never-seen-before Eizouken."
A live-action film adaptation of Sumito Oowara's Eizouken niwa Te wo Dasuna!/Keep Your Hands off Eizouken! manga is now in the works for release in the early summer of 2020. The manga focusing on high school girls' anime production activities has been serialized in Shogakukan's Monthly Big Comic Spirits since September 2016, and its TV anime adaptation directed by Masaaki Yuasa (Lu over the wall, DEVILMAN crybaby) is also set to premiere in Japan in January 2020.
Three members of Japanese female idol group Nogizaka46 are cast as the main characters in the live-action film: Asuka Saito (21) as Midori Asakusa, Mizuki Yamashita (20) as Tsubame Mizusaki, and Minami Umezawa (20) as Sayaka Kanamori.
Tsutomu Hanabusa, known for his live-action film adaptation works of popular Japanese manga, such as High School Debut (2011), Heroine Shikkaku (2015), Asahinagu (2017), 3D Kanojo: Real Girl (2018), and Kakegurui (2018-2019), is attached to direct.
Message from director Tsutomu Hanabusa:
"'Are you serious?' That's what I thought first when I received this offer. Keep Your Hands off 'Keep Your Hands off Eizouken!' I will have to carry the cross that touches the forbidden book. If I have to do it, there's no choice but to create the never-seen-before Eizouken that can be done only in live-action. I will do the best I can behind the back of Nogizaka-san. Please go easy on me, everyone."
「月刊!スピリッツ」連載中の大童澄瞳さん原作『#映像研には手を出すな!』(小学館)の実写映画化が決定! 2020年初夏公開! メインキャストには #乃木坂46 の #齋藤飛鳥 #山下美月 #梅澤美波! 超個性的な登場人物たちを演じます。監督は『あさひなぐ』の英勉。続報をご期待ください!  #映像研 pic.twitter.com/xNBG814FZP

— 映画『映像研には手を出すな!』公式 (@eizouken_saikyo) October 14, 2019
Manga 1st and 4th tankobon volume covers: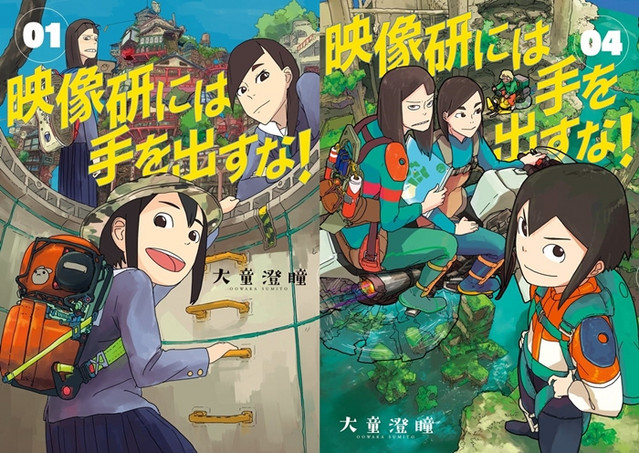 ---
Source: "Keep Your Hands off Eizouken!" live-action film official website / Twitter
(c)2020 "Eizouken" Live-Action Adaptation Strategy Meeting
(c)2016 Sumito Oowara/Shogakukan