La serie è iniziata l'11 maggio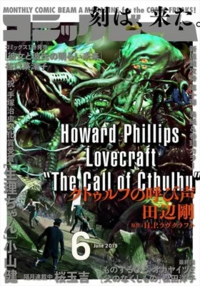 ---
Il numero di novembre di Monthly Comic Beam della Kadokawa ha rivelato sabato che l'adattamento manga di The Call of Cthulhu di Gou Tanabe terminerà nel numero del 12 novembre.
La storia originale mostra la prima comparsa dell'entità aliena conosciuta col nome di Cthulhu che dà il nome ai "miti di Cthulhu", la mitologia che racchiude in sé tutte le storie dell'orrore cosmico scritte da Lovecraft e da altri autori. La storia si incentra sulle indagini di Francis Wayland Thurston, sulle strane attività di un gruppo di cultisti che sembrano venerare una creatura senza tempo chiamata Cthulhu. Il gruppo venera questo essere come un dio in letargo nelle profondità del mare, pronto a destarsi e a portare distruzione.
Tanabe ha lanciato il manga nel numero dell'11 maggio di Monthly Comic Beam.
Il manga è parte di una serie di adattamenti manga dell'opera iriginale di H.P. Lovecraft. La Dark Horse Comics ha pubblicato il suo H.P. Lovecraft's The Hound and Other Stories nell'agosto del 2017, raccolta che contiene "The Hound," "The Temple" e "The Nameless City". La serie è stata nominata per il premio Best Comic nel concorso 46th Angoulême International Comics Festival.
L'autore ha pubblicato anche The Colour Out of Space e The Haunter of the Dark. Già in passato pubblicò un adattamento di The Outsider. Lo scorso novembre ha terminato il suo manga ispirato a The Shadow Out of Time.
Fonte: Monthly Comic Beam November issue
Notizia originale di Rafael Antonio Pineda su AnimeNewsNetwork