A collaboration movie is also in the works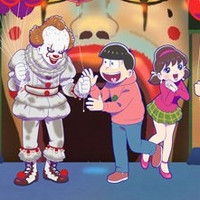 The Japanese official Twitter for It Chapter Two, which will be released in Japan on November 1, has posted a special collaboration visual featuring an encounter between Pennywise the Dancing Clown and the Matsuno sextuplets, the heroine Totoko, Chibita captured in the hand of Pennywise from the Mr. Osomatsu anime franchise. The DVD/Blu-ray of Osomatsu-san the Movie is also scheduled to be released on November 6.
This special collaboration was realized because the name of Mr. Osomatsu's production company is Studio Pierrot. The studio says, "The six brothers have lost their way into the world of 'IT' that looks fun without realizing it. They have even received balloons from Pennywise...! A lot of scary things are going to happen, but we hope they will beat Pennywise by getting over their trauma and win! Don't lose, six brothers! But it's probably impossible...because they are natural-born losers..."
The studio confirms a collaborative movie with Mr. Osomatsu is currently in the works.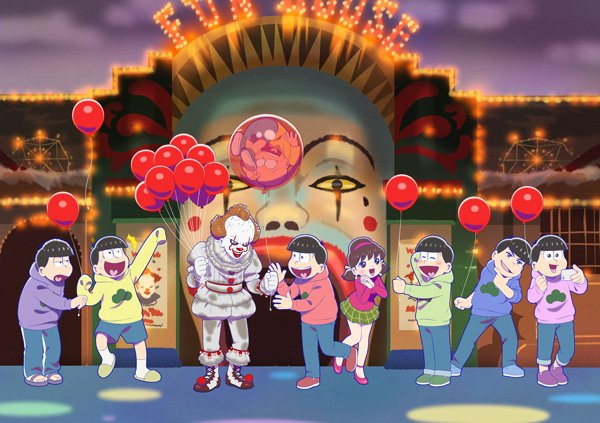 /
負けるな6つ子❗️
  負けるな #ルーザーズ❗️
\

????意外な共通点多数#えいがのおそ松さん × #イット見えたら終わり
日米奇跡のコラボビジュアル実現!

詳しく:https://t.co/bNAvS3gd2s#イットTheEND pic.twitter.com/prgEs5D9Rr

— 映画『IT/イット』公式???????? (@IT_OWARI) October 23, 2019
さらに…#えいがのおそ松さん× #イット見えたら終わり
コラボ映像も絶賛制作中????????✨

果たしてどんな映像になるのか⁉️
続報もお楽しみに????#イットTheEND

<画像右>
特装盤 えいがのおそ松さん 赤塚高校卒業記念BOX
Blu-ray&DVD 11/6(wed) on Sale!!!!!! pic.twitter.com/3H2331fzZF

— 映画『IT/イット』公式???????? (@IT_OWARI) October 23, 2019
"IT Chapter Two" JP trailer:
---
Source: "IT Chapter Two" Japanese official website / Twitter
©2019 Warner Bros. All Rights Reserved.
(c)Fujio Akatsuka/Osomatsu-san The Movie Production Committee 2019