The most popular character will be featured in a special project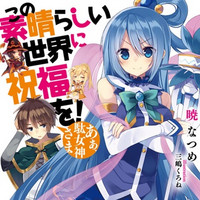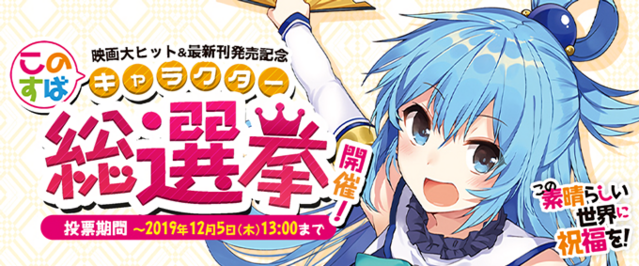 In commemoration of the recent box office success of the Legend of Crimson anime film and the release of its latest volume, KADOKAWA's light novel imprint Sneaker Bunko launched a second online general election for the 38 characters in Natsume Akatsuki's KONOSUBA: God's Blessing on this Wonderful World! comedy fantasy series today.
Introduction movie:
The first one was held from December 2015 to January 2016 with a total vote of 18,362, and its most popular character was Megumin.
The first election's top 10 characters:
1. Megumin
2. Eris
3. Iris
4. Aqua
5. Yunyun
6. Darkness
7. Wiz
8. Kazuma
9. Komekko
10. Vanir
---
The voting period is between 13:00 on November 1, 2019, and 13:00 on December 5, 2019 (JST). You can vote for your favorite character once a day every day during the period. Each character gets ten points per vote. But only Aqua, who ranked fourth in the previous election, has two voting buttons for ten points and fifty points.
The interim result of the character ranking will be announced in the middle of November 2019, then the final result will be revealed in the middle of December. The novel's author Akatsuki will write original short stories for its top three characters, which will be a bonus item for the next volume from Sneaker Bunko to be released on January 1, 2020. In addition, the most voted character will be featured in a special project.
Voting page:
https://sneakerbunko.jp/konosuba/senkyo/vote.php
『この素晴らしい世界に祝福を!』

お待たせしました!✨

「このすば」第二回キャラクター総選挙、開催!
今回はアクアが総選挙をジャック!?????

1~3位のキャラクターには書き下ろしSS、更に1位のキャラクターにはスペシャル企画も!?????

投票は下記サイトから!
⬇️⬇️⬇️⬇️⬇️https://t.co/dDrv6myESB

— スニーカー文庫@11/1新刊発売!! (@kadokawasneaker) November 1, 2019
Novel 1st and 16th volume covers: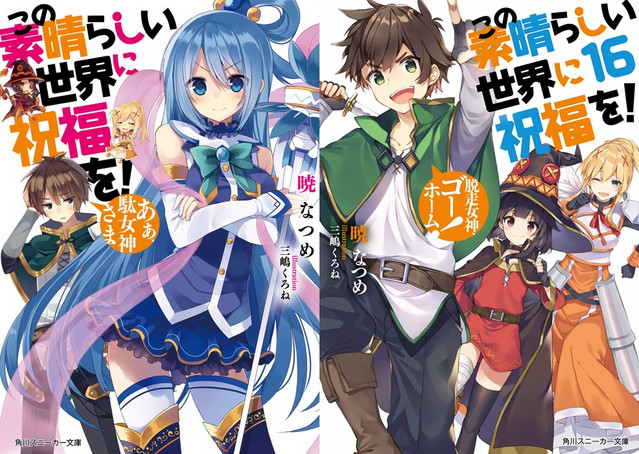 ---
Source: KADOKAWA press release
©Natsume Akatsuki, Kurone Mishima/KADOKAWA