Sortie le 20 février au Japon !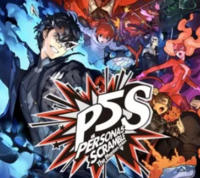 Atlus vient de mettre en ligne quatre nouvelles vidéos pour le jeu Persona 5 Scramble: The Phantom Strikers !
La première dévoile de nouveaux personnages exclusifs : Sophia, une jeune et mystérieuse amnésique qui possède le Persona Pithos, et Zenkichi Hasegawa, un policier. Ils seront respectivement doublés par Misaki Kuno et Shinichiro Miki.
La deuxième nous emmène à Shibuya, à la rencontre d'Alice Hiiragi, un autre personnage exclusif doublé par Ayane Sakura.
La troisième est une démonstration du gameplay avec emphase sur l'utilisation de la fonction Showtime.
Enfin, la dernière est tout simplement la fusion de toutes les précédentes.
Le jeu Persona 5 Scramble: The Phantom Strikers sera disponible à partir du 20 février sur PlayStation 4 et Switch au Japon. Son scénario inédit se déroulera après les événements de Persona 5.