Yukio Nishimoto (TOUGH: High School Iron Fist Legend) serves as director at Children's Playground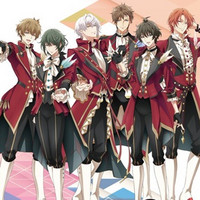 Finally, the official website for the TV anime Tsukiuta. The Animation confirmed today that its long-awaited second season is set to premiere in Japan in April 2020. The news was also revealed at the Animate Girls Festival 2019 event held in Ikebukuro, Tokyo, at the same time today.
As the anime merchandise store chain Animate's 30th anniversary project, the Studio Pierrot-produced first season of the TV anime featuring original characters on the theme of 12 months was aired for 13 episodes from July to September 2016.
The production of the new season was announced back in November 2018, and it was originally planned to be aired during 2019. Along with today's announcement, the project's official Twitter apologized for the delay.
Instead of the first season's Itsuro Kawasaki, Yukio Nishimoto (TOUGH: High School Iron Fist Legend) newly serves as director, alongside new series composition writer Natsuko Takahashi (The Master of Ragnarok & Blesser of Einherjar) and two new character designers Michinori Chiba (Mobile Suit Gundam 00) and Ai Yokoyama (Space Battleship Tiramisu). Chinese web streaming service company Bilibili Group's Japanese branch Children's Playground Entertainment is the new animation studio for the second season.
Main visuals: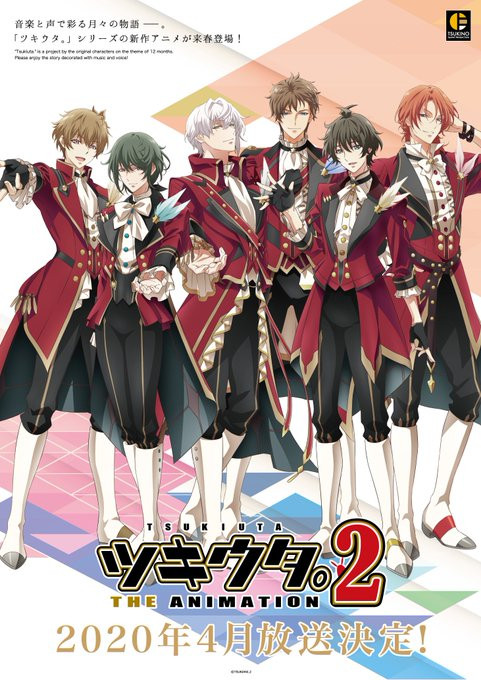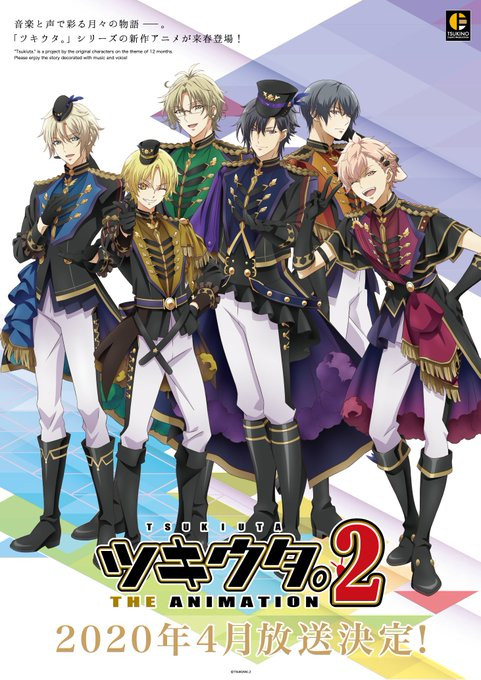 「ツキウタ。 THE ANIMATION2」、略して「ツキアニ。2(ツー)」2020年4月放送!

お待たせして申し訳ございませんでした。
改めまして、2020年4月放送にてお願いいたします。

続報は順次お知らせしていきます。
改めてツキアニ 。2をよろしくお願いいたします。#ツキアニ #ツキウタ pic.twitter.com/dUh13VQ9Hw

— ツキウタ。 THE ANIMATION (@tsukiani_info) November 9, 2019
---
Source: "Tsukiuta. THE ANIMATION" official website / Twitter
©TSUKIANI.