Crunchyroll co-production gets new teaser trailer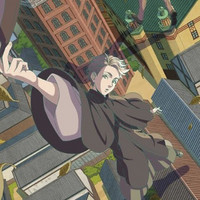 The first teaser trailer has been released for the forthcoming Crunchyroll co-production Woodpecker Detective's Office. It is based on the mystery novel by Kei and will be available to members worldwide, excluding Asia. The teaser is embedded below:
Synopsis
It is the end of the Meiji Era.
The genius poet Ishikawa Takuboku, who's struggling financially, starts a detective business out of his lodging in response to a certain murder case.
He calls it the Woodpecker Detective's Office.
"The ghosts of the Twelve-Story Tower in Asakusa," "the man-eating figure who wanders the streets on snowy nights"...
Takuboku involves himself in one bizarre case after another with his hometown acquaintance, Kindaichi Kyosuke, as his assistant.
Other literary men such as Nomura Kodo, Yoshii Isamu, Hagiwara Sakutaro, and Wakayama Bokusui are also dragged into Takuboku's exploits as he races all around Tokyo at the height of Westernization!
Staff:
Original Story
Kei Ii
General Director
Shinpei Ezaki
Director
Tomoe Makino
Series Composition
Taku Kishimoto
Character Planning
Kaoru Saki
Character Designs
Shuichi Hara
Music
MONACA
Animation Production
Liden Films
Production
Tohoku Shinsha / Liden Films
Planning
Kimikoe Project
Presented by
Woodpecker Detective's Office Production Committee
Cast:
Shintarou Asanuma as Takuboku Ishikawa:
A genius poet. Attended the same middle school as Kindaichi Kyosuke. Somewhat loose with money and women, but his good looks make him hard to hate.
Takahiro Sakurai as Kyosuke Kindaichi:
A part-time university lecturer. He loves Ishikawa Takuboku's talent. Mild-mannered and easily pushed around by Takuboku.
Other cast members include Kenjiro Tsuda, Rikiya Hayashi, and Hayato Furusawa.
You can follow the official Twitter and visit the series' website for more.