La canzone di 13 minuti 'Ray of Water' è cantata dagli Arashi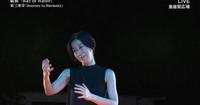 ---
La compositrice Yoko Kanno (Macross Plus, Cowboy Bebop, Ghost in the Shell: Stand Alone Complex) ha composto la canzone "Ray of Water" che ha diretto durante la cerimonia d'incoronazione dell'imperatore dell'era Reiwa, sabato. La canzone è divisa in tre parti: "Kaishin" (Dio del mare), "Niji no Kodomo" (Figli dell'arcobaleno) e "Journey to Harmony" (Viaggio verso l'armonia).
La famosa band maschile Arashi ha cantato la linea vocale della terza parte. L'autore Okada ha scritto il testo. L'acclamato pianista Nobuyuki Tsujii ha eseguito l'assolo di pianoforte della seconda parte.
Il governo giapponese ha annunciato il primo aprile che il nome della nuova era, dopo l'ascensione del principe Naruhito al trono imperiale, sarebbe stato "Reiwa" (令和), significa armonia. Il nuovo nome dell'era è entrato in atto il primo maggio, quando il principe ereditario Naruhito è diventato il nuovo imperatore. La cerimonia formale d'insediamento ha avuto luogo il 22 ottobre. La coppia imperiale ha sfilato durante una celebrazione condotta dai cittadini tra il 9 e il 10 novembre, tra una folla di migliaia di persone.
Fonti: Oricon, Gwyn Campbell
Notizia originale di Kim Morrissy su AnimeNewsNetwork