Nanaba's Pioneer Squad event slated for forthcoming game update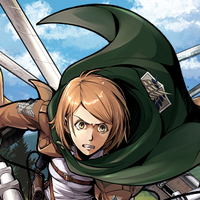 November 15, 2019 — Today, DeNA Co., Ltd. announced various content updates for Attack on Titan TACTICS, an officially licensed mobile game based on the popular anime series Attack on Titan. More information is shown below: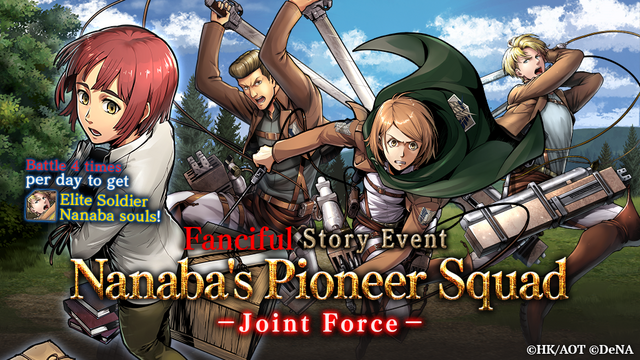 Fanciful Story Event: Nanaba's Pioneer Squad – Starting November 19th, a Fanciful Story Event titled "Nanaba's Pioneer Squad" will be available in game, letting players follow the story of Nanaba, Gelgar, and other members of the Scout Regiment as they attempt to re-take Wall Maria from the Titans. Completing these event stages will earn players rewards that can be redeemed for 3★ [Elite Soldier] Nanaba.
Attack Fest Now Available: Featuring 5★ [Scent of Soap] Petra Rall – A special in-game event is now available, and provides players with an opportunity to add the new 5★ unit [Scent of Soap] Petra Rall to their team. This unit, along with the 5★ [Officer Candidate] Armin Arlelt, will have higher drop rates in the gacha compared to other units of the same rarity during the event.
Please check in-game menus for more information and event dates. Note that details are subject to change without notice.
Attack on Titan TACTICS is a tower defense and real-time strategy game where players build and deploy an elite team of Scouts to defend their base from a relentless onslaught of Titans. The game features fan-favorite characters like Eren Jaeger, Mikasa Ackermann, Captain Levi, and more, and follows the story from the first season of the Attack on Titan anime. The game is free-to-play with in-app purchases on compatible iOS and Android devices in the US, Canada, and Australia, and can be downloaded using the links below:
Fans can also stay tuned for news about the game on the official social media channels: Twitter (https://twitter.com/aottactics), Facebook (https://www.facebook.com/AoTTACTICS/), and Instagram (https://www.instagram.com/aottactics/), as well as the game's website (https://aot-tactics.com/).


Crunchyroll Games is an official partner of Attack on Titan TACTICS. Fans who want to catch up on the anime can stream Attack on Titan now on Crunchyroll.
Based on the manga "Shingeki no Kyojin" by Hajime Isayama originally serialized in the Monthly BESSATSU SHONEN magazine published by Kodansha Ltd.
©Hajime Isayama,Kodansha/"ATTACK ON TITAN"Production Committee. All Rights Reserved.