"Love Live! Sunshine!!" collaboration menu and merchandise will be offered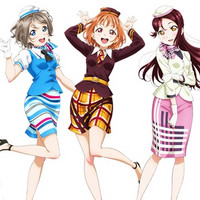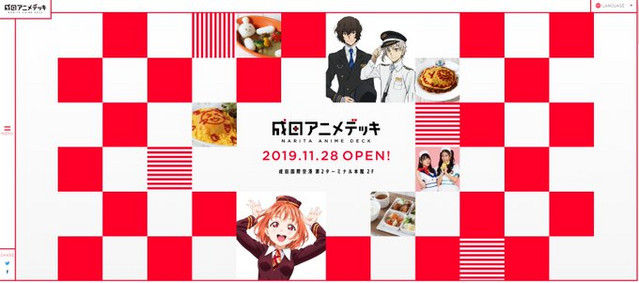 Anime Tourism Association, KADOKAWA, and Narita International Airport Corporation will jointly open a new anime-themed entertainment facility complex on the second floor of the main building of Narita International Airport Terminal 2 on Thursday, November 28, 2019. Accordingt o its official website, it is the place "where you can experience and enjoy Japanese animation culture and characters which Japan can show off to the world, in various forms such as character goods, foods, events and photo spots."
The Narita Airport's first anime-oriented area consists of two sections: "Narita Anime Road" that exhibits anime character illustrations on the 60 m-long corridor wall and "Narita Anime Deck" that includes eat-in restaurants, entertainment cafes, and merchandise shops produced by KADOKAWA.
オープンまで10日! #成田アニメデッキ の公式サイトを更新しました。新商品やコラボメニューの最新情報詳細は成田アニメデッキ公式サイトで順次更新予定。お楽しみに! https://t.co/Wz8SejB6le #アニメ #アニメグッズ #コラボカフェ #成田空港 #11/28オープン pic.twitter.com/xPDcnWcj1V

— 【公式】成田アニメデッキ (@NRTanimedeck) November 18, 2019
Floor map: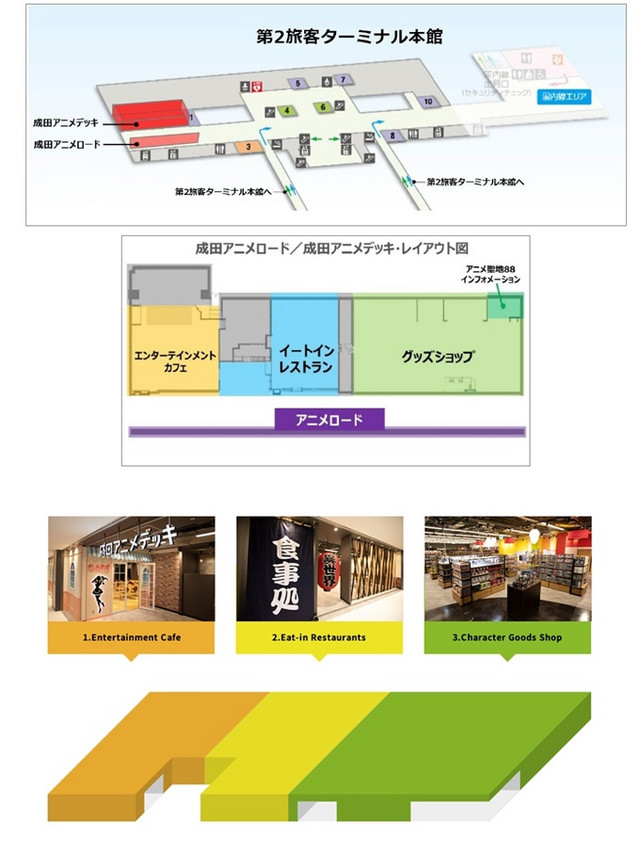 "Narita Anime Road" also includes character photo spots that features Japan's four seasons: Spring (Detective Conan), Summer (Evangelion), Fall (Sword Art Online), Winter (Attack on Titan).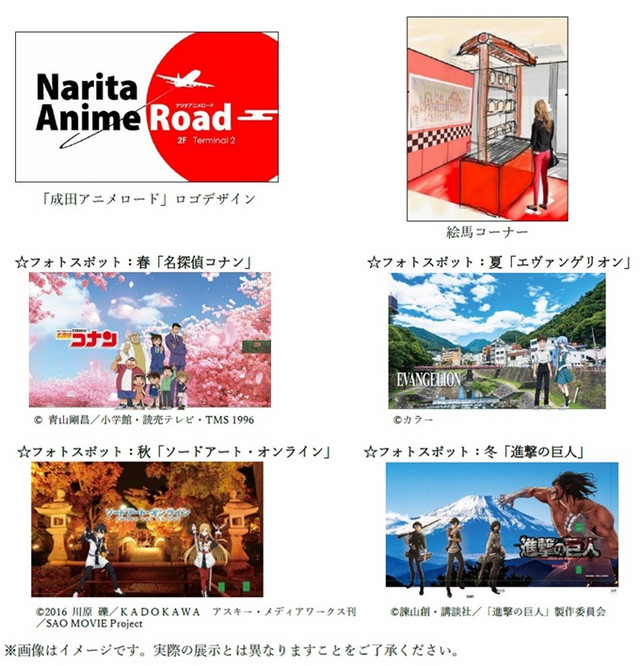 From its opening day November 28, 2019, special collaboration menu and merchandise inspired by the Love Live! Sunshine!! franchise will be offered at Narita Anime Deck.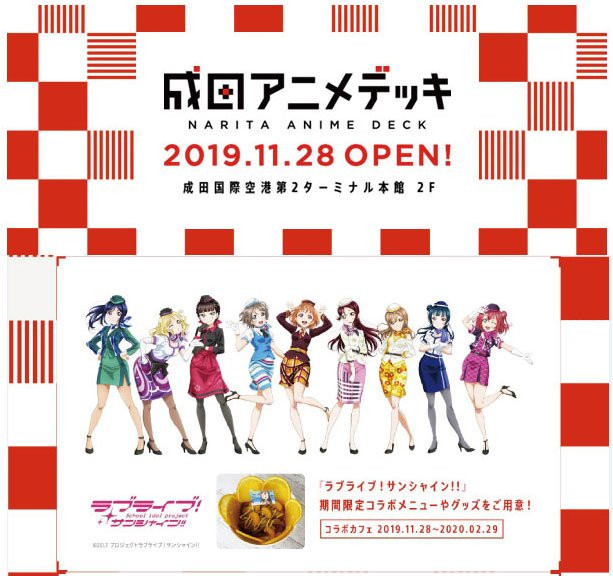 『ラブライブ!サンシャイン‼』よりCA風衣装をまとったAqoursのメンバーをフィーチャーしたアクリルバッジ、B2タペストリー、A3クリアポスターが #成田アニメデッキ で11/28(木)から先行販売!→ https://t.co/Wz8SejSHcM #lovelive #Aqours #成田空港 pic.twitter.com/8P29ZZib48

— 【公式】成田アニメデッキ (@NRTanimedeck) November 18, 2019
#成田アニメデッキ で展開する『ラブライブ!サンシャイン‼』コラボメニューをご紹介!作中に登場するおなじみのメニューや沼津の食材を使ったオリジナルメニューはどれもノベルティ付き‼詳細はこちら→ https://t.co/Wz8SejSHcM #lovelive #Aqours #成田空港 pic.twitter.com/dw2g61rKl2

— 【公式】成田アニメデッキ (@NRTanimedeck) November 18, 2019
Eat-in restaurant image:

Entertainment cafe image:

---
Source: Narita International Airport press release