The final result will be revealed in the middle of December 2019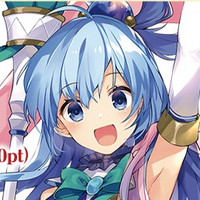 The interim result for the ongoing second online general election for the 38 characters in Natsume Akatsuki's KONOSUBA: God's Blessing on this Wonderful World! comedy fantasy series is announced today. The online vote has been held since November 1, 2019, in commemoration of the recent box office success of the Legend of Crimson anime film and the release of its latest volume.
As expected, Aqua dominates the current ranking with the overwhelming 1,503,890 points, which is 4.5 times more that Megumin's 336,040 points in second place.
The reason for her dominance is obvious. During the voting period between November 1 and December 5, you can vote for your favorite KONOSUBA character once a day every day. Each character gets ten points per vote. But only Aqua has two voting buttons for ten points and a huge fifty points. 1,491,800 points of her total points were voted through the latter. So, if she didn't have the bonus button, her actual point would become 310,450, which would put her into second place in the ranking, behind only Megumin.
The interim result top 10
1. Aqua - 1,503,890 points

2. Megumin - 336,040

3. Darkness - 76,650

4. Iris - 75,240
5. Eris - 70,370
6. Yunyun - 64,970
7. Kazuma - 47,180
8. Wiz - 44,100
9. Chris - 32,310
10. Vanir - 24,340
---
The final result will be revealed in the middle of December. The novel's author Akatsuki will write original short stories for its top three characters, which will be a bonus item for the next volume from Sneaker Bunko to be released on January 1, 2020. In addition, the most voted character will be featured in a special project.
Voting page:
https://sneakerbunko.jp/konosuba/senkyo/vote.php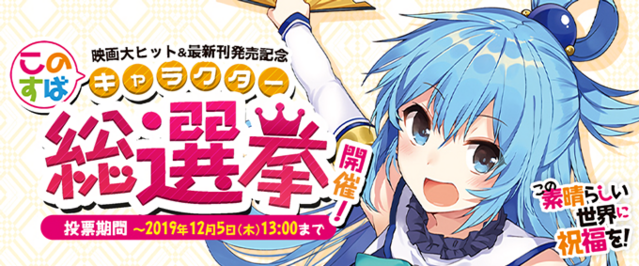 Introduction movie:
---
Source: KADOKAWA press release
©Natsume Akatsuki, Kurone Mishima/KADOKAWA