♫ mwen ké fenn tchou aw ♫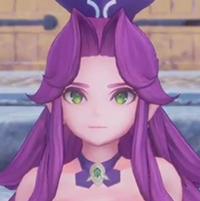 Square Enix poursuit sa présentation des différents protagonistes de son remake 3D du jeu vidéo Trials of Mana. Vous l'avez compris, après Duran, c'est aujourd'hui Angela qui est mise en lumière.
La Princesse d'Altena, du royaume des Magiciens, se dévoile donc dans une cinématique qui nous offre par ailleurs un aperçu de l'identité visuelle du titre, un minimum plus convaincante que celle du remake du jeu Secret Of Mana, sorti il y a maintenant près de deux ans. Cette version modernisée de Trials of Mana nous arrivera le 24 avril 2020 sur PlayStation 4, Switch et PC.
Source : Gematsu