The voice of Hibiki Ganaha (The [email protected]), Saya Endoh (Dagashi Kashi), Kohaku (Dr. STONE)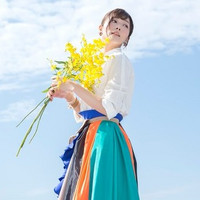 31-year-old anime voice actress Manami Numakura announced on her official blog today on November 25 that her next concert "Numakura Manami FINAL LIVE Minnade!" is set to be held at Toyosu PIT in Tokyo on February 16, 2020, and as its title suggests, it will be her last concert as a solo singer herself.
She is best known as Hibiki Ganaha in The [email protected] series, Yurika Toudou in Aikatsu!, Saya Endoh in Dagashi Kashi, Narberal Gamma in Overlord, and Kohaku in DR. STONE. As a solo singer, she has released four singles and two albums since November 2016. Her top-ranking song was her first single song "Sakebe" (TV anime Magical Girl Raising Project OP theme), which ranked 19th in the Oricon weekly sales chart.
She writes, "As 'FINAL' is included in the event title, I have decided that it will be my last one. It was my own decision. When I started my singer activities, I also decided it by myself, and I have reached here with the help of people around me. Thank you so much! I would also like to thank the staff for accepting this decision and supporting me with all their might."
Four days before her last concert, her two-disc best album "COMPLETE BEST Minnade!" is also scheduled to be released on February 12. The album's bonus Blu-ray contains all of her music videos including the new one for her last solo song "Minnade!"
COMPLETE BEST「みんなで!」2020年2月12日発売!
今までの全ての楽曲に加え新曲「みんなで!」を収録!
さらに「みんなで!」のMusic Videoを含む全Music Videoを収録したBlu-rayを同梱したまさにコンプリート盤!
ジャケット写真も公開しました!(宣伝すー) #nu_nu_nu pic.twitter.com/rhPcSL5xIY

— 沼倉愛美(公式) (@numakura_manami) November 25, 2019
LAST LIVE「みんなで!」開催!
2020/2/16(日)豊洲PIT
チケットファンクラブ先行抽選受付実施中!
LAST LIVEのセトリの一部をみんなで作る"FINAL LIVE「みんなで!」作ろう!プロジェクト"スタート!
こちらはファンクラブ会員でなくても応募可能!
(宣伝すー)https://t.co/8Nq2wx6kz6#nu_nu_nu pic.twitter.com/KhgkCKjiHn

— 沼倉愛美(公式) (@numakura_manami) November 25, 2019
---
1st single "Sakebe" (November 2, 2016 release):
2nd single "Climber's High!" (February 8, 2017 release):
3rd "Irodori -color-" (June 6, 2018 release):
4th single "Desires" (October 31, 2018 release)
---
Source: Manami Numakura official blog / Twitter