The top-selling single volume was the 91st of Eiichiro Oda's "One Piece"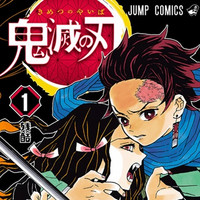 Oricon, a data compiling company specializing in providing data for the Japanese music/book industry, has announced the best-selling book annual rankings of 2019, which were compiled between November 19, 2018, and November 17, 2019.
Its sales data is a little different from the one reported by Shueisha on Monday. According to Oricon's report, Koyoharu Gotouge's Demon Slayer: Kimetsu no Yaiba manga series sold 12,057,628 copies (Shueisha said it sold 10.8 million copies during the same period), becoming the top-selling manga series of 2019, instead of Eiichiro Oda's One Piece, which had maintained its No.1 position for 11 consecutive years since 2008. Oricon says One Piece sold 10,134,232 copies, while Shueisha said its 2019 sales was 12.7 million copies.
Meanwhile, last year's second top-selling series, Kohei Horikoshi's My Hero Academia hugely dropped to sixth, as its yearly sales was down to 5,047,574 copies from last year's 6,718,185.
On the other hand, One Piece still dominated the top four positions in the single volume sales ranking of 2019. The top-selling volume was its 91st volume that sold 2,388,243 copies. Kimetsu no Yaiba's highest position was eighth marked by its 17th volume with 926,446 copies.
In the light novel series' sales ranking, Fuse's That Time I Got Reincarnated as a Slime jumped up to the top from last year's fifth thanks to the well-received TV anime adaptation, while last year's champion, Kugane Maruyama's Overlord disappeared from top 10, because no new volume was released in 2019.
And the novelization of Makoto Shinkai's latest anime feature film Tenki no Ko / Weathering With You, written by the director himself, dominated the single volume ranking with a massive 511,159 copies, which was almost twice more than the 21st volume of Reki Kawahara's Sword Art Online series in second place. It was the second time for Shinkai that he had dominated the ranking following the novelization of his previous film Kimi no Na wa. / Your Name. in 2016.
---
2019 Manga Sales Ranking Top 10 (by series)
1 (-). "Demon Slayer: Kimetsu no Yaiba" - 12,057,628
2 (1). "One Piece" - 10,134,232 (8,113,317 in 2018)
3 (6). "Kingdom" - 7,661,361 (4,970,171)
4 (8). "The Promised Neverland" - 7,454,745 (4,246,955)
5 (-). "The Quintessential Quintuplets" - 5,895,000
6 (2). "My Hero Academia" - 5,047,574 (6,718,185)
7 (3). "Attack on Titan" - 4,704,234 (5,235,963)
8 (5). "Haikyu!!" - 4,514,838 (5,030,624)
9 (-). "Kaguya-sama: Love Is War" - 4,096,492
10 (9). "That Time I Got Reincarnated as a Slime" manga edition - 3,414,482 (3,460,066)
---
2019 Manga Sales Ranking Top 25 (by volume)
1. "One Piece" 91 - 2,388,243
2. "One Piece" 93 - 2,200,000
3. "One Piece" 92 - 2,112,734
4. "One Piece" 94 - 1,880,146
5. "Attack on Titan" 27 - 1,344,500
6. "Attack on Titan" 28 - 1,172,448
7. "Attack on Titan" 29 - 955,124
8. "Demon Slayer: Kimetsu no Yaiba" 17- 926,446
9. "Demon Slayer: Kimetsu no Yaiba" 16- 877,366
10. "Kingdom" 53 - 863,994
11. "Kingdom" 54 - 850,606
12. "Demon Slayer: Kimetsu no Yaiba" 15 - 833,472
13. "My Hero Academia" 21 - 831,797
14. "Demon Slayer: Kimetsu no Yaiba" 14 - 821,222
15. "Kingdom" 55 - 809,855
16. "The Promised Neverland" 12 - 801,584
17 "My Hero Academia" 22 - 775,064
18. "The Promised Neverland" 14 - 741,903
19. "Haikyu!!" 35 - 698,372
20. "One-Punch Man" 18 - 695,864
21. "Demon Slayer: Kimetsu no Yaiba" 13 - 693,931
22. "March Comes in Like a Lion" 14 - 687,476
23. "Demon Slayer: Kimetsu no Yaiba" 1 - 680,787
24 "My Hero Academia" 23 - 679,813
25. "The Promised Neverland" 15 - 673,890
---
2019 Light Novel Sales Ranking Top 10 (by series)
1 (5). "That Time I Got Reincarnated as a Slime" - 879,734 (539,277)
2 (-). "Weathering With You" - 634,151
3 (9). "Sword Art Online" - 615,363 (371,626
4 (4). "Re:Zero − Starting Life in Another World" - 550,202 (619,031)
5 (-). "Seishun Buta Yarou" - 536,494
6 (-). "Kusuriya no Hitorigoto" - 461,024
7 (-). "Is It Wrong to Try to Pick Up Girls in a Dungeon?" - 434,034
8 (3). "The Irregular at Magic High School" - 429,217 (626,952)
9 (8). "Classroom of the Elite" - 420,573 (393,949)
10 (-). "Demon Slayer: Kimetsu no Yaiba" novelization - 407,640
---
Source: Oricon
"Demon Slayer: Kimetsu no Yaiba" image ©Koyoharu Gotouge / SHUEISHA