Sakiho Motonishi e Yuriya Suzuki sono nel cast che sarà in scena dall'11 al 14 marzo a Tokyo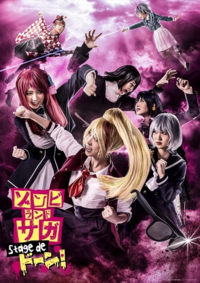 ---
Il sito ufficiale di Zombie Land Saga Stage de Do-n!, lo spettacolo teatrale ispirato a Zombie Land Saga, ha rivelato mercoledì che lo show sarà in scena tra l'11 e il 14 marzo al Tokyo Sōgetsu Hall. Ci saranno 7 rappresentazioni di questo spettacolo. Il sito ha mostrato il cast dei personaggi principali e la locandina:
Troviamo nel cast: (da sinistra a destra partendo dalla fila superiore)
Sakiho Motonishi nel ruolo di Sakura Minamoto
Yuriya Suzuki nel ruolo di Saki Nikaidō
Rie Matsuoka nel ruolo di Ai Mizuno
Yūna Kitahara nel ruolo di Junko Konno
Mioka Sakamoto nel ruolo di Yūgiri
Rin Takanashi nel ruolo di Lily Hoshikawa
Asami Morita nel ruolo di Tae Yamada
Noriyuki Ohashi nel ruolo di Kōtarō Tatsumi
L'anime
ZOMBIE LAND SAGA
di MAPPA, Avex Pictures e Cygames ha fatto il suo debutto nell'ottobre del 2018. Crunchyroll ha trasmesso in streaming la serie di 12 episodi in contemporanea col Giappone.
L'anime racconta la storia di Sakura Minamoto che sogna di diventare un'idol, ma è investita da un'auto e si risveglia come zombie. Un uomo chiamato Kotaro Tatsumi compare per dirle che la sta reclutando in un gruppo di idol di sole zombie, ragazze morte selezionate in diverse ere della storia Giapponese.
L'anime sta per continuare in un sequel intitolato Zombie Land Saga Revenge.
L'evento "Zombie Land Saga Live: Franshushu Live of the Dead" si terrà al Makuhari Messe event hall l'8 marzo.
Fonti: sito dello spettacolo Zombie Land Saga Stage de Do-n!, Comic Natalie
Notizia originale di Alex Mateo su AnimeNewsNetwork