Male character-featured "Tokyo Mew Mew Au Lait!" starts serialization today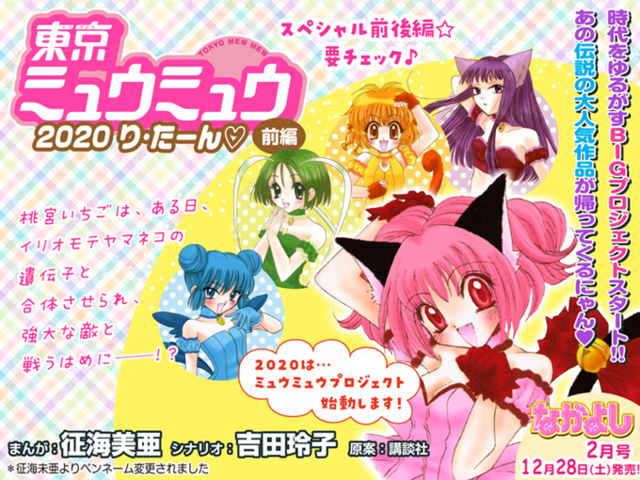 Kodansha revealed the details of its "Tokyo Mew Mew Project" today. In addition to the male character-featured new series Tokyo Mew Mew Au Lait! illustrated by Madoka Seizuki, it also includes Tokyo Mew Mew 2020 Re-Turn, a two-part one-shot manga by the two original creators: the story writer Reiko Yoshida and the illustrator Mia Ikumi.
The original Tokyo Mew Mew manga was serialized in Kodansha's monthly shoujo manga magazine Nakayoshi from September 2000 to February 2003, then compiled in seven tankobon volumes. It was adapted into a 52-episode TV anime series by Studio Pierrot from April 2002 to March 2003.
The first chapter of Tokyo Mew Mew 2020 Re-Turn is scheduled to be published in Nakayoshi's next February 2020 issue to be released in Japan on December 28, 2019, then its second chapter will follow on the magazine's March 2020 issue on February 3, 2020. While its plot details are currently kept under wraps, except it is set in Tokyo in 2020, all of the five female characters from the original are expected to return.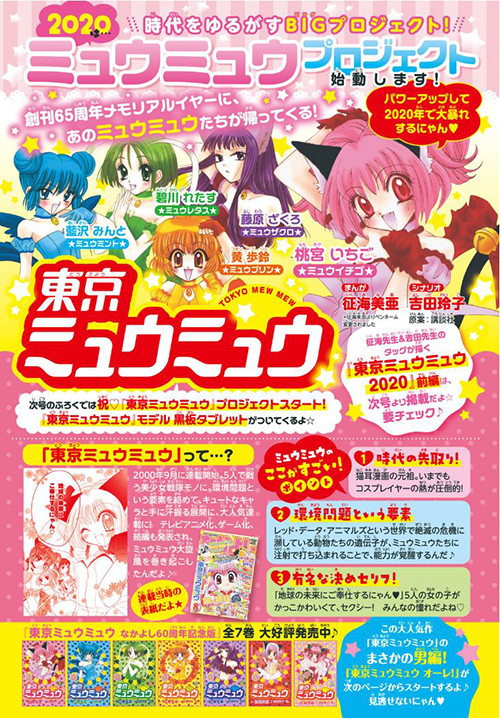 ---
As reported, Tokyo Mew Mew Au Lait! featuring five boys instead of the original's five girls starts serialization in Nakayoshi's latest January 2020 issue released in Japan today, November 30.
Its 62-page first chapter introduces the protagonist Aoi Shibuya, a high school boy in Tokyo who is merged with the DNA of the Iriomote Wild Cat (the same animal for the original's protagonist Ichigo Momomiya) and given the power to transform into "Mew Mew." Although he has had no wishes to become a hero, he decides to transform to protect the future of all animals on the earth.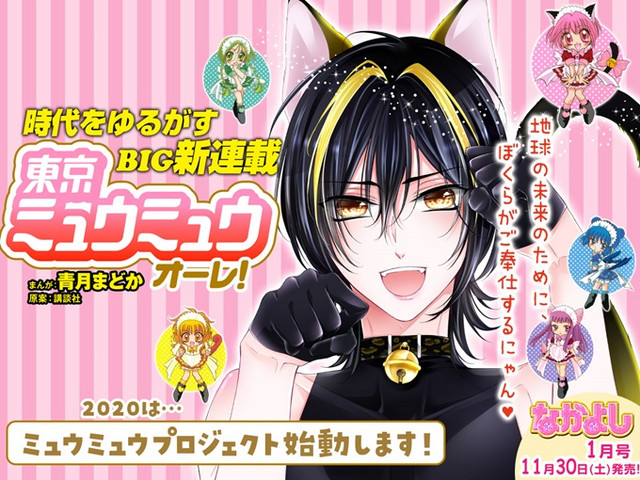 Nakayoshi January 2020 issue cover: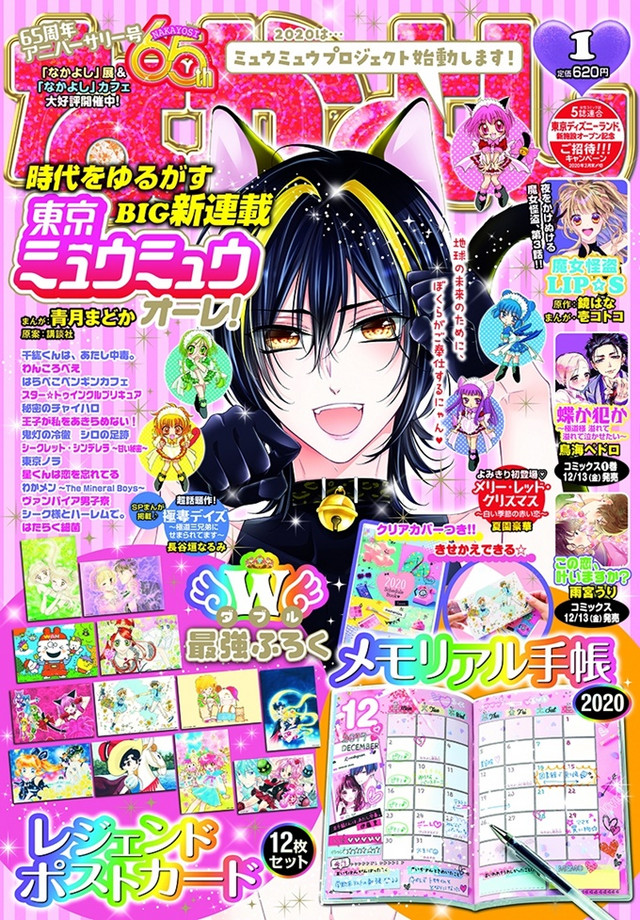 Pages from the first chapter (legitimately provided by Kodansha):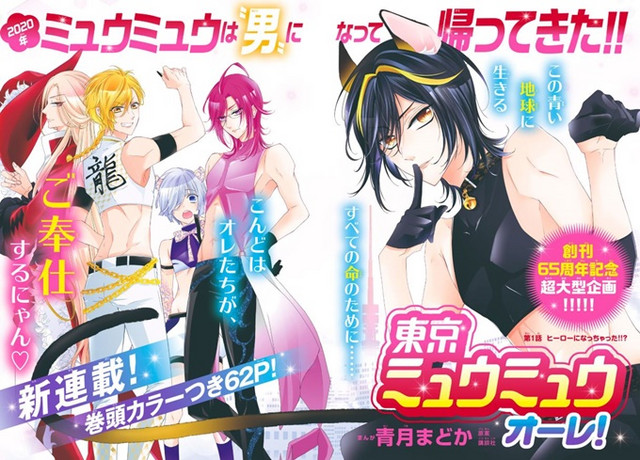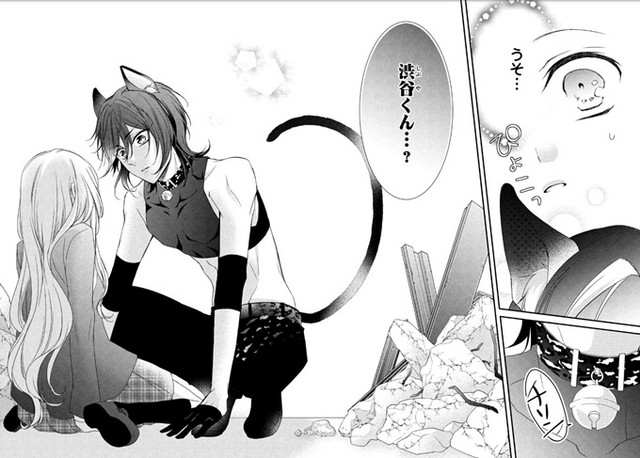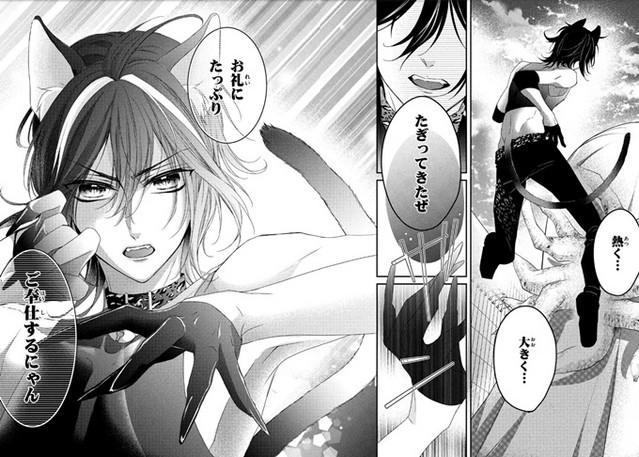 ---
TV anime "Tokyo Mew Mew" key visual: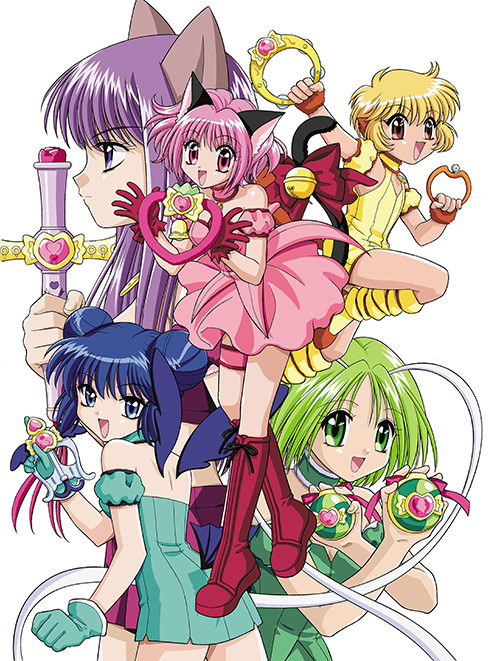 ---
Source: Kodansha press release