"The Quintessential Quintuplets" jumps up to second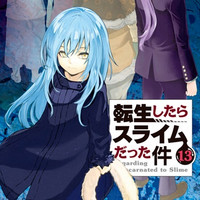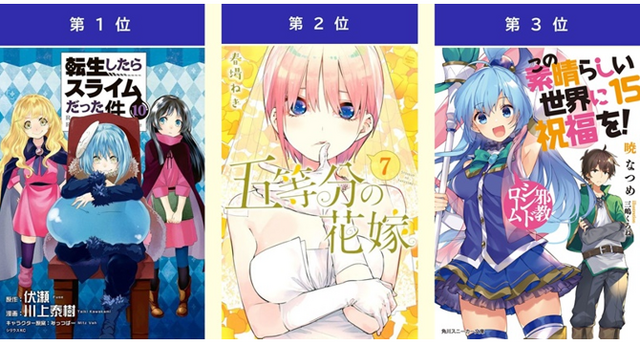 Book Walker, one of the largest digital bookstores in Japan, reported its sales rankings of 2019 for ten categories, based on the digital sales figures between November 1, 2018, and October 31, 2019. The store opened in 2010 and has offered various digital books from major Japanese publishers, including Kadokawa, Kodansha, Shueisha, and Shogakukan.
Following last year, the top-selling series in its overall ranking of this year was the manga adaptation of Hase's That Time I Got Reincarnated as a Slime fantasy light novel series, illustrated by Taiki Kawakami. The manga has been serialized in Kodansha's Monthly Shonen Sirius since March 2015 and has released 13 tankobon volumes so far. Meanwhile, Fuse's original novel series slipped 12 positions down to 21st from last year's ninth. The total print run of the whole series has reached 15 million copies by November 2019.
Coming in the second was Negi Haruba's comedy romance manga The Quintessential Quintuplets. It didn't ranked even in top 50 last year. The manga has been running in Kodansha's Weekly Shonen Magazine since August 2017 and has had 12 tankobon volumes. Its total print run has surpassed 7.2 million copies by September 2019, and it has also become the fifth top-selling manga series of 2019. As reported, the author has confirmed that it is scheduled to be concluded in its forthcoming 14th volume that is expected to be released in the spring of 2020.
---
Book Walker's overall sales top 10 series in 2019
(their ranking in 2018)
1 (1). "That Time I Got Reincarnated as a Slime" manga (Taiki Kawakami/Kodansha/Monthly Shonen Sirius)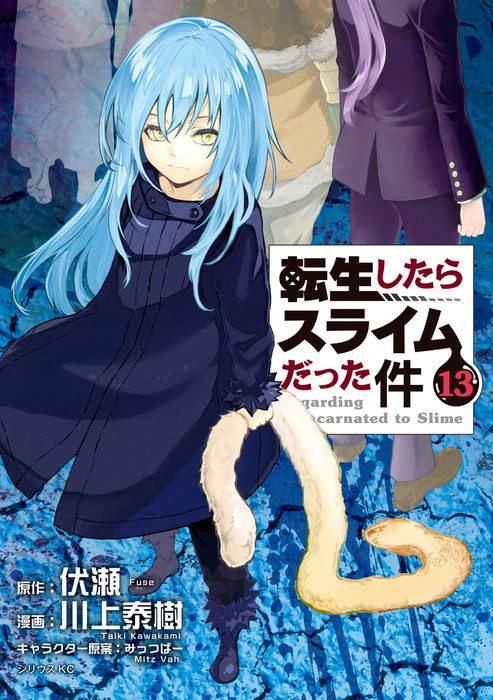 (C)Fuse (C)Taiki Kawakami/KODANSHA
2 (-). "The Quintessential Quintuplets" manga (Negi Haruba/Kodansha/Weekly Shonen magazine)
3 (3). "KonoSuba: God's Blessing on This Wonderful World!" novel (Natsume Akatsuki/KADOKAWA/Sneaker Bunko)
4 (4). "Is It Wrong to Try to Pick Up Girls in a Dungeon?" novel (Fujino Omori/SB Creative/GA Bunko)
5 (-). "Kaguya-sama: Love Is War" manga (Aka Akasaka/Shueisha/Weekly Young Jump)
6 (8). "Isekai Meikyuu de Harem wo" manga (Issei Hyouju/KADOKAWA/Kadokawa Comics Ace)
7 (47). "The Rising of the Shield Hero" manga (Aiya Kyu/Media Factory/Monthly Comic Flapper)
8 (5) "Goblin Slayer" manga (Kosuke Kurose/Square Enix/Big Gangan Comics)
9 (16). "Saga of Tanya the Evil" manga (Chika Tojo/KADOKAWA/Kadokawa Comic Ace)
10 (-). "Isekai Ojisan" manga (Hotondo Shindeiru/Kadokawa/Comic Walker)
---
Male manga series top 5
1 (1). "That Time I Got Reincarnated as a Slime" (Taiki Kawakami/Kodansha/Monthly Shonen Sirius)
2 (-). "The Quintessential Quintuplets" (Negi Haruba/Kodansha/Weekly Shonen magazine)
3 (-). "Kaguya-sama: Love Is War" (Aka Akasaka/Shueisha/Weekly Young Jump)
4 (3). "Isekai Meikyuu de Harem wo" (Issei Hyouju/KADOKAWA/Kadokawa Comics Ace)
5 (-). "The Rising of the Shield Hero" (Aiya Kyu/Media Factory/Monthly Comic Flapper)
Female manga series top 5
1 (-). "Kusuriya no Hitorigoto" (Nekokurage/Square Enix/Monthly Big Gangan)
2 (-). "Seijyo no Mamori wa Bannou-desu" (Azuki Fuji/Kadokawa/Comic Walker)
3 (6). "Honzuki no Gekokujyou" (Suzuka/To Books)
4 (3). "Chihayafuru" (Yuki Suetsugu/Kodansha/BE LOVE)
5 (-). "Kuma Kuma Kuma Bear" (Serugei/Shufutoseikatsusha/Comic PASH!)
Light novel series top 5
1 (2). "KonoSuba: God's Blessing on This Wonderful World!" (Natsume Akatsuki/KADOKAWA/Sneaker Bunko)
2 (3). "Is It Wrong to Try to Pick Up Girls in a Dungeon?" (Fujino Omori/SB Creative/GA Bunko)
3 (8). "Classroom of the Elite" (Shogo Kinugasa/Media Factory/MF Bunko J)
4 (5). "The Irregular at Magic High School" (Tsutomu Sato/ASCII Media Works/Dengeki Bunko)
5 (-). "Sword Art Online" (Reki Kawahara/ASCII Media Works/Dengeki Bunko)
---
Source: Book Walker press release