"Saekano Fine" has stayed in the top 10 for seven consecutive weeks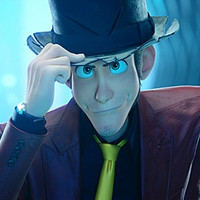 The 48-year-old Lupin The Third anime franchise's first full 3DCG feature film Lupin The Third: The First was released in 348 theaters across Japan on December 6, 2019, then earned 245 million yen on 77,000 admissions on its first Saturday and Sunday, ranking second in the weekend's box office. The result was 37.7% of the first two-day gross of the 2013 film Lupin the Third vs. Detective Conan: The Movie.
The Takashi Yamazaki (Space Battleship Yamato, Stand By Me Doraemon)-directed film has received positive reviwes and ranked No.1 in Pia's first-day satisfaction ranking with a 91.5 approval rating. It earned over 300 million yen in its first three-day and is expected to end its domestic run with around 1.5 billion yen.
Meanwhile, the live-action film adaptation of Rin Mikimoto's romance shojo manga Gozen 0-ji, Kisushi ni Kiteyo starring Kanna Hashimoto and Ryota Katayose (GENERATIONS from EXILE TRIBE) ranked third with a modest 125 million yen in its opening weekend. The result was 46% of Hashimoto's previous live-action adaptation of Japanese popular manga, Aka Akasaka's Kaguya-sama: Love Is War, released in September 2019.
Thanks to the seven-part bonus sequel novel written by the original novel author Fumiaki Maruto, Saekano: How to Raise a Boring Girlfriend Fine has stayed in the box office top 10 for seven consecutive weeks. In its seventh weekend, the 115-minute film to conclude the series still ranked the same ninth position with last week, and its total box office gross has reached 660 million yen to become the 17th top-grossing Japanese anime film of 2019.
---
Weekend box office in Japan (December 7-8, 2019)
(ticket sales basis)
1 (1). "Frozen II" - 6.01 billion yen
2 (new). "Lupin The Third: The First" - 300 million yen 3 (new).
3 (new). "Gozen 0-ji, Kisushi ni Kiteyo" - 190 million yen
4 (2). "Sumikko Gurashi: Tobidasu Ehon to Himitsu no Ko" - 980 million yen
5 (3). "Kessan! Chusingura" - 820 million yen
6 (4). "Terminator: Dark Fate" - 2.21 billion yen
7 (5). "Doctor Sleep" - 250 million yen
8 (6). "IT Chapter Two" - 1.75 billion yen
9 (7). "Saekano: How to Raise a Boring Girlfriend Fine" - 660 million yen
10. (8). "City Hunter THE MOVIE: Shijyou Saikou no Mission" - 100 million yen
"Lupin The Third: The First" trailer:
"Gozen 0-ji, Kisushi ni Kiteyo" trailer:
---
©Monkey Punch/2019 Movie "Lupin The Third" Production Committee
©2019 "Gozen 0-ji, Kisushi ni Kiteyo" Production Committee