Advance screening event for its first episode will be held on December 22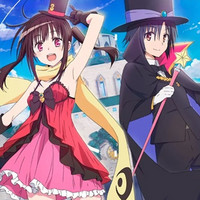 The official website for the long-awaited TV anime adaptation of the late Tomohiro Matsu (Listen to Me, Girls. I Am Your Father!)'s unfinished romantic comedy light novel series Hatena☆Illusion announced today that it is set to premiere on BS Nittele and MBS on January 9, 2020, then on Tokyo MX one day later.
Prior to the TV premiere, an advance screening event for its first episode is scheduled to be held at Space FS Shiodome in Tokyo at 19:00 on December 22, 2019. The anime 's four main voice cast: Aina Suzuki (Kana "Hatena" Hoshisato), Yoshitsugu Matsuoka (Makoto Shiranui), Miyu Tomita (Yumemi Hoshisato), and M.A.O (Ema Sakurai) will also join for a talk show. Its 3,500-yen ticket will be available between December 13 and 15 on ePlus.
TVアニメ「はてな☆イリュージョン」の放送日が決まりました。予定は下記をチェック!

⭐️BS日テレ 1月9日(木) 23:30~
⭐️MBS 1月9日(木) 26:30~
⭐️TOKYO MX 1月10日(金) 26:05~

※放送日時は変更となる場合がございます。????#はてなイリュージョン #hatenaillusion

— アニメ「はてな☆イリュージョン」公式 (@hatena_anime) December 11, 2019
---
PV:
Main Voice Cast:
Kana "Hatena" Hoshisato: Aina Suzuki
Makoto Shiranui: Yoshitsugu Matsuoka
Yumemi Hoshisato: Miyu Tomita
Ema Sakurai: M.A.O
Kokomi Kikyoin: Sumire Uesaka
Mariah Grene: Satomi Arai
Mamoru Hoshisato: Yoshimasa Hosoya
Maeve Hoshisato: Yoshino Nanjo
Jeeves Wodehouse: Takashi Matsuyama
Gaugau: ???
Synopsis:
Makoto Shiranui, who has just become a freshman in junior high school, goes to Tokyo to become a disciple of Mamoru Hoshisato, a world-famous magician who was an acquaintance of his parents. He has always admired magicians since he saw the show by Mamoru Hoshiri and his wife Maeve when he was a child, and he is also a childhood friend of their daughter Kana (nicknamed Hatena). In Tokyo, the incidents by a beautiful female phantom thief have created a sensation, but Makoto has no anxiety because there is still Hatena. At the Hoshisato family's house, which is called a haunted house, the butler Jeeves and the maid Ema welcome Makoto, then he finally meets again with Hatena. She seems so happy to be with him, but there are gaps in their conversation, and finally --!
OP song "Magic Words" short MV by Liyuu:
ED song "Hikari-iro no Uta" MV by Aina Suzuki:
---
Source: TV anime "Hatena☆Illusion" official website / Twitter
©Tomohiro Matsu/SHUEISHA, Hatena☆Illusion Production Committee
© BANDAI NAMCO Arts Inc. All Rights Reserved.