Que ano rendeu o maior número de animes no ranking? Clique e descubra!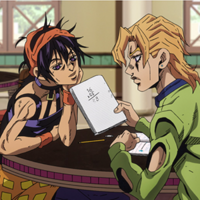 No final dessa década a equipe editorial da Crunchyroll se reuniu para celebrar alguns dos melhores animes dos últimos dez anos (a propósito, você pode conferir a lista aqui). Ao analisarmos as respostas, também queremos destacar alguns dos dados interessantes por trás dos títulos que entraram na lista. Alguns dos resultados até nos surpreenderam! Portanto, sem mais delongas, vamos analisar alguns gráficos!
Vamos começar por um comparativo entre os anos: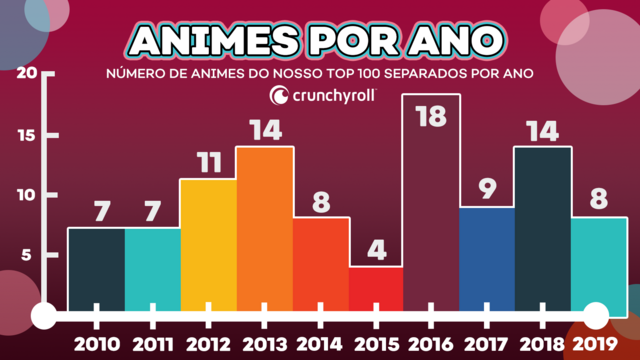 2016 realmente dominou nossos favoritos da década, com anime de destaque naquele ano, incluindo Mob Psycho 100, My Hero Academia e Yuri !!! no ICE, só para citar alguns. Não temos certeza do que aconteceu em 2015, mas parece que as pessoas estavam realmente se esforçando para tornar o próximo ano um tanto espetacular em termos de anime. Em segundo lugar estão os anos de 2013 (títulos notáveis, incluindo Attack on Titan, Flowers of Evil e KILL la KILL) e 2018 (com sucessos como DEVILMAN crybaby, A Place Further Than the Universe e Laid-Back Camp).
Agora vamos comentar sobre os gêneros escolhidos: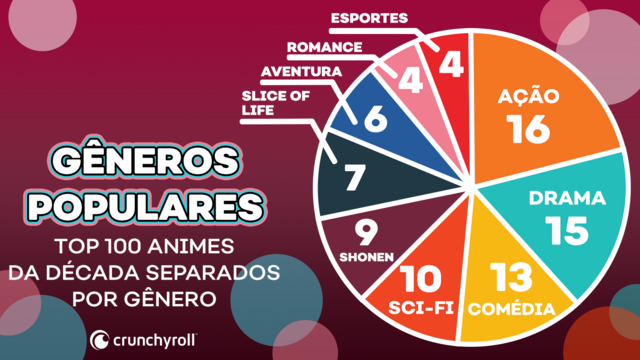 Ação, Drama, e Comédia marcaram firme presença! Embora a gente consiga citar um título que reúna todos os gêneros apresentados no gráfico: Pop Team Epic.
Agora vamos conferir como os estúdios performaram no ranking:
Nós realmente amamos a Kyoto Animation: onze títulos incríveis! Sério, se você ainda não viu A Silent Voice, Nichijou ou Sound! Euphonium, faça um favor a si mesmo. Também é muito interessante que dois estúdios relacionados a Masao Maruyama - MAPPA (Yuri !!! no ICE, Dororo, In This Corner of the World) e Madhouse (Hunter x Hunter, A Place Further Than the Universe, One-Punch Man) - tenham chegado até a segunda posição.
Por último mas não menos importante, a fonte das séries que entraram no ranking: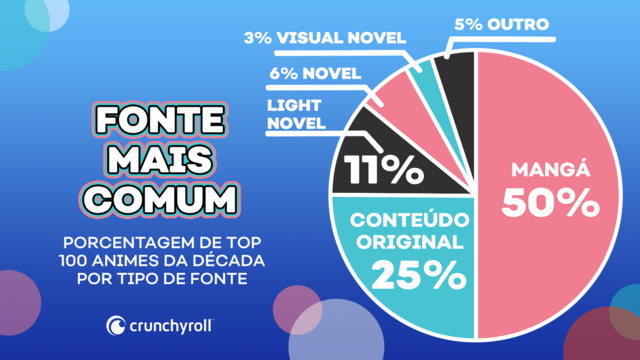 Sem surpreender ningupem, os mangás ainda são a principal fonte da indústria do anime, com Made in Abyss, PING PONG THE ANIMATION e Demon Slayer: Kimetsu no Yaiba como programas que chegaram ao Top 25. Mas conteúdo original também fez um quarto sólido dos representantes, com hits da década como SHIROBAKO, Puella Magi Madoka Magica e Lupin The Third: The Woman Called Fujiko Mine na lista.
O que você achou da lista dos 100 Melhores Anime da Década da equipe editorial da Crunchyroll? O que mais te surpreendeu com o desmembramento desses dados? Nos conte nos comentários abaixo!
.