Sword Art Online, Ascendance of a Bookworm follow in the ranking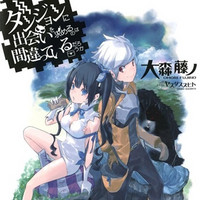 Japanese general hybrid bookstore "honto" has announced the sales ranking for the light novel series that were adapted into TV anime in fiscal year 2019. The ranking is based on the sale data from the "honto" online store, digital bookstores, and the major bookstore chains that have used the "honto" service between November 2018 and October 2019.
There are 17 light novel series that have had their TV anime adaptations by November 13, 2019 (this ranking includes Sorcerous Stabber Orphen, whose new TV anime adaptation is set for January 2020).
The top-selling series of this year is Fujino Omori's Is It Wrong to Try to Pick Up Girls in a Dungeon?. The second season of its TV anime adaptation was aired for 12 episodes from July to September, and the third season is already set for the summer of 2020. Then, Reki Kawahara's Sword Art Online and Miya Kazuki's Ascendance of a Bookworm follow in second and third in the ranking.
---

1. "Is It Wrong to Try to Pick Up Girls in a Dungeon?" (Fujino Omori / SB Creative)
Print - 45% / Digital - 55%
Male - 88% / Female - 12%
20s - 21% / 30s - 25% / 40s - 26%

2. "Sword Art Online" (Reki Kawahara / KADOKAWA)
Print - 69% / Digital - 31%
Male - 75% / Female - 25%
20s - 22% / 30s - 21% / 40s - 27%

3. "Ascendance of a Bookworm" (Miya Kazuki / TO Books)
Print - 73% / Digital - 27%
Male - 39% / Female - 61%
30s - 24% / 40s - 33% / 50s - 22%

4. "The Case Files of Lord El-Melloi II" (Makoto Sanda / TYPE-MOON)
5. "Arifureta: From Commonplace to World's Strongest" (Ryo Shirakome / Overlap)
6. "Wise Man's Grandchild" (Tsuyoshi Yoshioka / Enterbrain)
7. "Isekai Cheat Magician" (Takeru Uchida / Shufunotomo)
8. "Demon Lord, Retry!" (Kurone Kanzaki / Futabasha)
9. "Hensuki: Are You Willing to Fall in Love with a Pervert, as Long as She's a Cutie?" (Tomo Hanama / Media Factory)
10. "Didn't I Say to Make My Abilities Average in the Next Life?!" (FUNA / Earth Star Entertainment)
11. "If It's for My Daughter, I'd Even Defeat a Demon Lord" (Chirolu / Hobby Japan)
12. "Assassins Pride" (Kei Amagi / Fujimi Shobo)
13. "High School Prodigies Have It Easy Even In Another World" (Riku Misora / SB Creative)
14. "Do You Love Your Mom and Her Two-Hit Multi-Target Attacks?" (Dachima Inaka / Fujimi Shobo)
15. "Chubo Gekihatsu Boy" (Minato Fujinami / KADOKAWA)
16. "Sorcerous Stabber Orphen" (Yoshinobu Akita / Fujimi Shobo)
17. "Cop Craft" (Shoji Gatoh / Shogakukan)
18. "Cautious Hero: The Hero Is Overpowered but Overly Cautious" (Light Tuchihi / Fujimi Shobo)
---
Source: "honto" PR executive office press release